Historic Glasgow health club to hold open day for first time
The Arlington Baths, which is celebrating its 140th anniversary this year, is just one of many attractions taking part in a festival in Glasgow this weekend.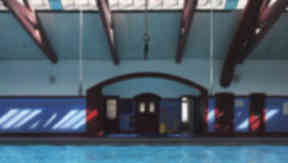 The Arlington Baths, Britain's oldest members' swimming complex, opens its doors at the weekend to the public for the first time in its 140-year history.
Established in 1870, this weekend's event is just one of a series of projects which will celebrate this landmark. The original membership of the club was rooted in the affluent mercantile class who built the neighbouring park and Woodlands district in the mid-19th century. The building was originally designed by John Burnet, the father of Sir John James Burnet.
Burnet created the original single storey building on Arlington Street, off Woodlands Road, which is only a few minutes walk from Kelvingrove Park. The building initially accommodated a pool, two bath areas and two changing rooms. In 1875 an extension was added to accommodate the Turkish suite which, to this day, is one of the main attraction's to members.
18 years later, a second extension created space for a reading room and billiard room. Then, in 1902, a first floor extension was added to one side of the building, giving it the form it retains today. The club now welcomes people of all walks of life, and is hoping a new influx of members will join after visiting during the Doors Open weekend.
Club Secretary Duich McKay said: "We are absolutely delighted to take part in Doors Open Day as part of our anniversary celebrations. This is an important and symbolic weekend as we look forward to securing the future of the baths for the next 140 years."
One of the club's members, Nicola Macnaughton, added: "Most Glaswegians don't know about the Arlington. I hope that like me, every visitor will be smitten by one of the few surviving Victorian pools.
"The stunning vaulted Turkish suite, steam room, saunas and state of the art gym combined in this historic building are simply unique. Hopefully they'll leave with a real understanding of its character and quirky charm."
The Arlington baths open day, as highlighted by Mr McKay, is part of the Doors Open Day festival in Glasgow. Across the city, more than 100 buildings will be hoping to attract some renewed interest by opening up their doors to the public.
IN DETAIL