Actor Gerard Kelly dies after sudden illness
Star of TV and theatre dies in hospital after suffering a brain aneurysm.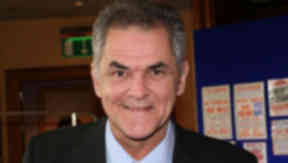 Scottish actor Gerard Kelly has died after a sudden illness.
The star of TV and pantomine suffered a brain aneurysm and died at West Middlesex University Hospital on Thursday night.
His family and friends were with him when he passed away.
Mr Kelly had appeared in some of the most successful Scottish-made TV comedies, including City Lights, Rab C Nesbitt and Scotch and Wry. He also had more serious TV roles, including that of the villain Callum Finnegan in Brookside.
His best known part was in TV comedy City Lights, where he played would-be author Willie Melvin. He also appeared in Ricky Gervais' comedy Extras.
In 2006 and 2007 he starred in and directed a Scottish play called Rikki and Me celebrating the life of two of his heroes, Rikki Fulton and Jack Mulroy, in which he played the role of Mulroy.
Gerard played The Narrator in the Rocky Horror Picture Show in Edinburgh and Aberdeen earlier this year and was due to revive this performance at the King's Theatre Glasgow in November.
He had been due to appear at the King's Theatre in Glasgow in Snow White and the Seven Dwarfs alongside Darius Campbell and Gavin Mitchell. The show was scheduled to open on December 3.
A private service is to be held for family and closest friends, and details of a memorial service are expected to be announced later.
IN DETAIL
Tell us your memories of Gerard Kelly and pay your tributes using our 'comments' box below.