Council slammed over X Factor star Olly Murs Christmas lights fee
The pop star will receive £15,000 for turning on the lights in Paisley amid millions of pounds of cuts and hundreds of job losses at Renfrewshire Council.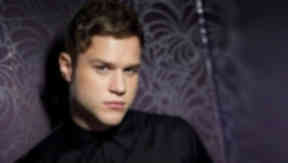 X Factor star Olly Murs will be paid £15,000 to switch on Christmas lights by a council that is cutting 500 jobs.
The singer, who competed on the show last year, will headline the event in Paisley on Saturday. He will perform on stage before being joined by Renfrewshire Provost Celia Lawson to officially switch on the town's lights.
Renfrewshire Council is having to make cuts of £24m and is axing hundreds of jobs. The council said the £15,000 fee was to cover travel, security and the time the star will be in Paisley.
Renfrewshire Council leader Derek Mackay, who represents the SNP, said: "Paisley Christmas lights switch-on is part of a wide-ranging and increasingly successful programme to regenerate Paisley town centre.
"One of the keys to doing that is attracting more people to the town. Last year's Christmas lights switch-on attracted around 25,000 people to Paisley town centre.
"That is a major boost for business and the profile of the town. Shops, cafes and restaurants all stay open later for these events and report significant increases in the number of customers out spending money in Paisley.
"The main draw for people to come to the event is having big-name performers there on the day. The money spent on the performer's fee is to provide the people of Renfrewshire with the type of event they want to see so they will come and support the economic regeneration of their town.
"Cutting back on these successful events would be a false economy as we would lose out on that boost. In the council's recent budget consultation, 63% of people said they supported continued council backing for these events and regeneration programme for the town.
"We've also seen the business community showing their support by sponsoring the event this year."
However, Labour councillor Jim Sharkey, who represents Paisley town centre, said: "I'm absolutely outraged. I don't think he is going to contribute anything and that's not the only extravagance.
"There is also a tower for launching fireworks which costs almost the same as Olly Murs and between the two of them that's two classroom assistants we can't have because they have spent the money in this way.
"There are plenty of people in Paisley who would have done a better job than Olly Murs. We have an embarrassment of riches as far as talent is concerned."