Nazi picture printed in football programme Remembrance Day blunder
Airdrie United bosses apologise after Remembrance tribute cover mistakenly features an image of German troops.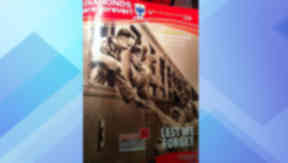 Airdrie United club officials have apologised after the club's magazine used a picture of Nazi troops on its cover in a Remembrance Day tribute.
The image was mistakenly used on the front cover of the club's magazine for Saturday's Division Two clash against Livingston.
The club told the Scottish Sun they thought the picture depicted Australian squaddies, but it actually shows nurses handing out water to German soldiers on a train during World War Two.
Airdrie United secretary Ann Marie Ballantyne said the image was chosen because Network Rail had been lined up to be match sponsors.
She said: "The picture we originally wanted looked too contrived, so we looked about for one with a train on it.
"As far as I know the snap came from PoppyScotland and we were told the soldiers were Australian. The idea was to tie in the train and Remembrance Sunday.
"In the end, Network Rail pulled out as sponsors at the last minute but by then everything was at the printers."
PoppyScotland spokeswoman Leigh James described the club's mistake as "unfortunate" - but denied they supplied the photo.
She said: "That picture is definitely not from our website. We did not get an official approach from Airdrie United about using any images.
"Obviously the club meant well and tried to support the charity.
"Unfortunately they used a wrong image on this occasion - but their sentiments were correct."