Devices found as anti-terror police investigate explosion near Loch Lomond
Police were investigating cause of mysterious explosion in forest near Gartocharn.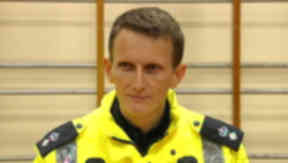 Anti-terror police ****have discovered several devices**** as they investigate the source of a mysterious explosion in a forest near Loch Lomond, STV News can reveal.
Sources confirmed a tree was blown up and bomb disposal teams were at the scene.
MoD sources said that Royal Navy's Northern Diving Group, the Navy's equivalent to the bomb disposal squad, were called out on Wednesday to offer support to Strathclyde Police and help them deal with the incident.
The alarm was raised at around 12 noon on Wednesday, when police were called after the sound of an explosion was heard in Garadhban Forest in Gartocharn, a village located to the south east of the loch.
Police confirmed that they discovered damage to the wooded area within the forest that would suggest some sort of explosion had occurred.
Chief Supt Calum Murray, Divisional Commander for Argyll, Bute and West Dunbartonshire, said: "As you would expect, when we are dealing with a situation where we suspect that explosives may be involved, it is our immediate priority to assess the situation and to call on expertise where we think it is appropriate. By its very nature, this type of assessment and investigation is complex and does take time.
"I can confirm that we are currently being assisted by agencies and experts from across the UK. Other forces have also been called in, including a team from the Metropolitan police.
"We are still in the assesment phase, and we're working to establish what we're dealing with and what the cause of the explosion was.
"I would stress that the site is secure and that there is no risk to public safety. As the explosion took place in a wooded area, there was no damage to property, and no-one was injured. We do want to minimize disruption to the community, and we thank the public for their patience.
"I would ask that if anyone has seen anything suspicious in or around the area, or has any information -  no matter how insignificant it may seem,  that they contact the police or Crimestoppers. All calls will, of course, be treated in the strictest of confidence.
"As I am sure you can understand, this is an ongoing investigation that is going to take some time to complete. We will release more information as that investigation progresses."
The forest is located close to Ross Priory, a landmark 19th century building owned by Strathclyde University and used regularly as a venue for weddings and for staff events. Police confirmed that it would be guarded by officers overnight as the enquiry continued.