Dentists trained to spot signs of domestic abuse
A scheme has been launched by NHS Ayrshire and Arran in a effort to encourage victims to report abuse.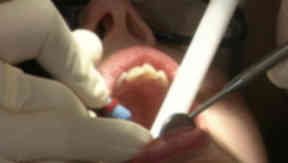 Dentists in a health board area are to be trained to spot signs of domestic abuse in patients.
A scheme was launched at the North West Kilmarnock Area Centre by Deputy First Minister Nicola Sturgeon and Dr Christine Goodall, founder of Medics Against Violence.
Under the scheme, NHS Ayrshire and Arran dentists will encourage victims to report to the police or other support services.
Dr Goodall said: "Victims of domestic abuse often suffer injuries to their teeth, face and neck, so dentists are often the first healthcare professionals they will see.
"On average it takes around 35 incidents of abuse before a victim feels able to tell the police or a support service."
NHS Ayrshire and Arran is the first health board in Scotland to take up the scheme, with over 90 dentists and dental care workers expected to take part in the first training session.
May Hendry, dental practice adviser from NHS Ayrshire and Arran, said: "Dentists are in an ideal position to detect injuries caused by domestic abuse as they not only work in close proximity to the patient but they often build up a rapport with the patient over many years."
Ms Sturgeon added: "Dentists are often the first point of contact that a victim of abuse sees when seeking treatment after a violent attack.
"That is why this initiative and training for dentists is vital. It will ensure they have the skills and ability to deal with disclosure professionally and confidently."
The launch comes ahead of White Ribbon Scotland's 16 days of action, which starts on Thursday, and the domestic abuse phase of the Violence Reduction Unit's anti-violence campaign, which runs from December 2010 - January 2011