X Factor star Gamu Nhengu in immigration reprieve
Family of 18-year-old can stay in Scotland for now.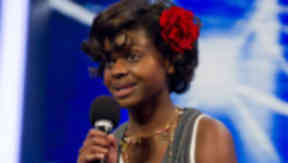 The family of former X Factor contestant Gamu Nhengu will stay in Scotland - for now.
During a five minute hearing at the Immigration Court in Glasgow on Friday morning, the Home Office withdrew their order against the family. It will now determine whether to bring a fresh order against the 18-year-old singer, her two brothers and her mother Nokuthula Ngazana.
At the start of the hearing, a Home Office representative said the case would be reconsidered and a "fresh decision will be made in due course". Gamu sat with her family throughout the short hearing. They looked tense and were holding hands for a time.
After the decision, their lawyer Frances Farrell said the family remained hopeful. She added: "The family are pleased that the Home Office have withdrawn their decisions and decided to reconsider my clients' cases.
"The family are hopeful that they will now be granted leave to remain in the UK. They want to thank everyone for all the wonderful support they have had.
"They (the Home Office) will go and reconsider the matter, so it's open to them to either issue another refusal, against which there would definitely be right of appeal, or it's open to them to grant my clients' leave."
The solicitor said she hoped a fresh decision would be made within weeks, rather than months. Gamu, along with her siblings, was permitted to stay in the UK while her mother studied to become a nurse.
Days after the 18-year-old singer's controversial exit from The X Factor, it emerged that Ms Ngazana's visa had expired and her application to remain in the UK had been rejected, meaning the family faced being sent back to their native Zimbabwe. The move came amid allegations, denied by the family, that Ms Ngazana had wrongly claimed working tax credits.
Producers on the show have stated Ms Nhengu's immigration status had nothing to do with Cheryl Cole's decision to axe her from the competition. The pop star put through Cher Lloyd and Katie Waissel instead, who both messed up their auditions.
X Factor star
Angry fans hit out at Ms Cole, and thousands joined a Facebook support page demanding that Gamu be reinstated to the competition.
The family was told last month to leave the UK voluntarily or face deportation. Despite initially being told they had no right of appeal, they were was given a lifeline after being granted a full appeal hearing before a judge.
The case, which was an appeal against the refusal of Ms Ngazana's visa, was expected to be heard before immigration judge Mungo Deans today.
But a Home Office representative told the start of the hearing that he had instructions to withdraw the original decision dating to October 6, over a "technical issue". Myles Matthews said the case "will now be reconsidered and a fresh decision will be made in due course".
Mr Deans added: "There is nothing to come now before the tribunal to hear or consider. That's the end of proceedings, as far as these particular appeals are concerned.
Gordon Banks, the MP for Gamu's home town of Tillicoultry, and local MSP Keith Brown are amongst those who support Gamu's case.
The singer has claimed she would face a firing squad if she is forced to return to Robert Mugabe's Zimbabwe. In recent weeks, it emerged that Simon Cowell has thrown his weight behind the campaign to save her from deportation.
The X Factor judge's lawyers are said to have been drafted in to help her in her fight to stay in the UK
Earlier this week, it emerged Gamu has recorded a single which will battle for the Christmas number one spot. Aberlour, a Stirling-based children's charity, is issuing the single Where Will You Sleep This Christmas?, featuring the 18-year-old's vocals.
The song was written by Gamu's former music teacher, David Clifford, and is being released on December 13. Gamu is also set to feature on an album entitled Glory to our God, which will be released on Monday, November 29.
ALL THE LATEST ON GAMU