Schools close across west and central Scotland
Road and rail services also affected.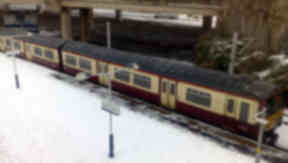 Schools across central and western Scotland are closed on Tuesday and commuters on the road and rails have suffered disruption and delays as winter weather continues to bite.
Schools in Argyll and Bute, Clackmannanshire, Dumfries and Galloway, East Dunbartonshire, Falkirk, Glasgow, North Lanarkshire, South Lanarkshire, Stirling and West Dunbartonshire have been closed due to snow and ice.
On the roads, problems were reported on motorways including the M74, the M8 and the M80, while a number of local routes across the region were covered in heavy snow, causing problems for commuters.
Trains in Glasgow and Lanarkshire are amongst those being disrupted, while the Glasgow to Edinburgh line also has problems.
Meanwhile, in Stirlingshire, the meals on wheels service struggled to fulfil its service. Family, friends and neighbours of vulnerable people have been encouraged to help, while workers in Balfron and Killearn are on foot in an effort to deliver meals.
And in Glasgow, snow is off and on as commuters dig out their wellies and winter clothing to try and get around town. Snow has also coated the area around STV's studios, as can be seen on our webcam!
GALLERIES
FROM STV LOCAL
FURTHER INFORMATION