Celtic player and Michelle Mone in car tot drama
Bra boss called police after Charlie Mulgrew and his partner left their child inside a car in winter weather.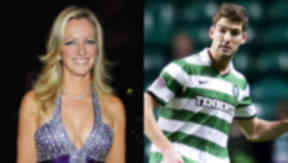 Celtic defender Charlie Mulgrew and his partner were questioned by police on Wednesday after bra boss Michelle Mone reported them for leaving their child inside a car in freezing temperatures.
The popular Scottish businesswoman told fans she considered smashing the window of the car during the incident, and how the footballer and his partner were furious with her for contacting police.
A spokesman from Strathclyde Police told STV News officers received a report that a child had been left within a vehicle in the car park of Costco in Glasgow's St Rollox at around 3.30pm.
Emergency services attended and the child was examined by paramedics, but did not require any treatment. A spokesman added a 24-year-old man and a 22-year-old woman are now subject of a report to the procurator fiscal.
The incident emerged when Michelle tweeted to her 15,000 followers: "Waiting at car as mother has left her baby in car for an hour at -7 called police & might smash window. Nut case Mx."
She later updated fans: "Baby safe and well, shame the parents were angry with me but I felt I only did the right thing for the baby as it was minus 7."
Michelle, a Celtic fan, is famous for setting up the Ultimo lingerie line. She is a familiar face with Celtic players and management. On Monday, she posed with Celtic manager Neil Lennon to promote Breast Cancer Care. She also modelled at the Parkhead club's charity fashion show earlier this year.
On Thursday morning, Michelle once again took to Twitter and said: "Gutted with all the press. Myself, Laura & Store staff were extremely concerned about a baby left in car at -7,not in sight of front door & car alarm going off.
"Time passed & we all decided to call the police. Turning back the clock I'd do it all again. Sometime you think in many ways "What If" I wish the parents & baby well Mx."