Tributes paid to Gerry Rafferty
Paisley-born singer and songwriter died after long battle with health problems.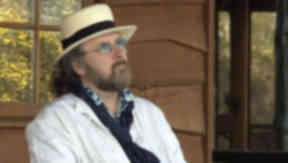 Tributes have been paid to Paisley-born singer Gerry Rafferty who has died at the age of 63.
The songwriter was admitted to the Royal Bournemouth Hospital in November 2010 with suspected liver failure. He died at his home in Dorset.
The singer, best known for his 1978 hit Baker Street had received treatment for liver failure in the past.
The song reached number three in the UK charts and number two in the US and Rafferty, who split from wife Carla in the 1990s, was said to have earned £80,000 a year from the royalties on the song alone.
He also had a huge hit in 1972 with Stuck in the Middle With You with his band Stealer's Wheel. The song was discovered by a new generation of fans in 1992 when Quentin Tarantino used it on the soundtrack to hit film Reservoir Dogs.
Early in his career Rafferty also worked with Billy Connolly in folk band The Humblebums, and as a producer he had a hand in The Proclaimers hit Letter From America.
Billy Connolly said: "Gerry Rafferty was a hugely talented songwriter and singer who will be greatly missed.
"I was privileged to have spent my formative years working with Gerry and there remained a strong bond of friendship between us that lasted until his untimely death.
"Gerry had extraordinary gifts and his premature passing deprives the world of a true genius."
A statement released by The Proclaimers read: "He was exceptional when we worked together and very kind to us. As well as a great songwriter he was a really, really good singer with fantastic harmony ideas.
"The fact that as well as producing Letter From America, he sang backing harmonies on it meant a lot to us. A great guy, a fantastic songwriter, Gerry will be sorely missed and we are greatly saddened at the news."
On Twitter, scottish singer Barbara Dickson added: "Gerry Rafferty, luminous, glorious Scottish musician. May he rest in peace."
Scottish music journalist Billy Sloan added: "He was a very modest guy who tended to let his songs and great lyrics do the talking, you never ever saw him at any red-carpet events or any big showbusiness bashes, that wasn't his style, he preferred to let his music do the talking and some of the songs he wrote were just absolutely fantastic."
Politicians also paid tribute to Gerry Rafferty.
Culture minister Fiona Hyslop said: "Gerry Rafferty was a hugely talented songwriter and musician. Responsible for some of the most iconic songs of our time, he will long be remembered for his significant cultural contribution and musical achievements, both at home and abroad.
"The warmth of the sentiments expressed by his many friends show that he was held in the very highest regard by all who knew him."
IN DETAIL