Fighter jet makes emergency landing at Prestwick
An F-16 fighter plane suffers a fuel leak while flying home from Germany to the United States.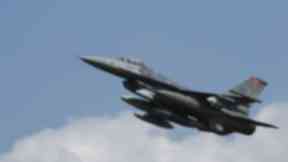 A US fighter jet has made an emergency landing at Prestwick Airport after suffering a fuel leak.
The F-16 plane, which was flying to the US from Spangdahlem air base in Germany, was diverted to Prestwick at about noon on Saturday after activating its emergency response programme.
Fire, police and ambulance services were alerted and the plane was escorted to the ground by another F-16.
Two ambulances and three fire appliances attended the scene.
Strathclyde Police said access roads to the airport were closed for about 15 minutes while the plane landed.
Nobody was hurt and emergency services were stood down shortly afterwards.
A spokesman for Glasgow Prestwick Airport said: "Prestwick plans and prepares regularly for such emergencies and we are relieved it ended well."