Protesters stage sit-in at RBS insurance building in Glasgow
Around 15 people angry over bankers' bonuses spent nearly two hours in the Direct Line building.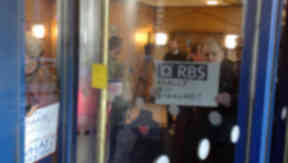 Protesters have staged a sit-in at an RBS-owned insurance company in Glasgow.
Police confirmed around 15 people conducted a peaceful protest inside the Direct Line building in the city's Cadogan Street.
The protesters, who were from a group called Citizens United, are angry about bankers' bonuses. One protester held up a sign "RBS Really Big Stealing" while another banner read "Bank Bonus For What?"
Sean Clerkin, from the group, told STV News: "This occupation is taking place today because we are opposing the £7bn of bonuses paid out to bankers - the very bankers that brought financial ruination to Britain, and have caused massive cuts to public expenditure.
"We are saying the bankers should not be paid these bonuses. We are saying the banks should be taxed heavily, so they repay the public purse, and we are saying their should be no cuts to public services."
Mr Clerkin warned his group aim to carry out more protests.
Police received a call around 11.25am. At least three police vans were outside the office at lunchtime. Around 1pm the protesters left the building and dispersed around ten minutes later.
Last August, RBS - which is owned by the taxpayer - announced it would close two offices of the insurance firm arm in Glasgow, including the Direct Line office at Atlantic Quay, threatening 640 jobs. This was offset with the creation of 200 jobs in the Cadogan Street branch of Direct Line.
A spokeswoman from RBS said: "We fully respect the right to protest so long as it does not affect our customers and staff."