Tommy Sheridan jailed for three years
The former MSP was found guilty of lying during a defamation case against the News of the World.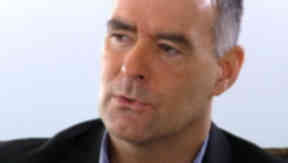 Tommy Sheridan has been jailed for three years after he was found guilty of lying during a successful defamation case against the News of the World.
The former MSP and member of the Scottish Socialist Party was accused of committing perjury after he took the tabloid newspaper to court over an article in 2004. He was found guilty by jury last month and convicted of five charges.
The newspaper claimed he was an adulterer who visited swingers' clubs. He took the paper to court and won £200,000 in damages.
But he was then accused of lying along with his wife Gail during the 2006 case.
At the High Court in Glasgow last month his wife was acquitted of all charges and then Sheridan saw six charges against him dropped. He was left facing six charges - and found guilty of five.
During his 50-minute plea in mitigation, Sheridan told the court that although he had previously spent time in prison, it was for politically motivated reasons - never for dishonestly.
He said: "I have no previous conviction for a single act of dishonesty."
The father-of-one also said the case had affected his family's health. He said: "The trial took its toll on my health and my piece of mind but especially on the health of Gail. My primary concern is the devastating effect of custody on my family."
"The jury have already done what I feared. I will be separated from my wife and my young daughter."
But the judge Lord Bracadale said: "On any view you were a hard working and effective politician but by pursuing a defamation action against the News of the World you brought the walls of the temple crashing down."
Sheridan has already revealed plans to appeal against the conviction along with legal action against the News of the World and others over phone-hacking allegations.
He originally faced more than a dozen claims of lying under oath at the start of the trial – which lasted 12 weeks and included dozens of witnesses.
The former SSP convener was accused of lying about statements he made during a meeting on November 9, 2004.
It is also claimed he lied about an alleged trip to a sex club in Manchester and about having sexual relationships with Anvar Khan and Katrine Trolle.
Witnesses included the Scottish News of the World editor Bob Bird, who admitted stripping to his boxer shorts while at a meeting with a man who claimed to have evidence that Sheridan lied during his defamation case.
Andy Coulson
Downing Street spin doctor Andy Coulson also gave evidence at the perjury trial. The 42-year-old was editor of the News of the World at the time of Sheridan's defamation action against the newspaper.
Sheridan maintained his innocence throughout the trial, claiming he was the victim of a "vendetta" by the police and a "conspiracy" involving the News of the World and colleagues within the Scottish Socialist Party (SSP).
He claimed that 16 former allies were lying as part of a "political civil war" when they told the court that he had admitted at a 2004 meeting to having been to Cupid's swingers' club in Manchester.
The jury found him guilty of lying about an affair with SSP member Katrine Trolle in 2005 and a trip to Cupid's with her, Andrew McFarlane, Gary Clark, and News of the World journalist Anvar Khan on September 27 2002.
Speaking outside court after the verdict, Mrs Sheridan said the real reason her husband had been jailed was for fighting injustice.
She said:  "As for Tommy - well, Tommy has dedicated his life to helping others. The real reason why he has been imprisoned today is because he has fought injustice, inequality with every beat of his heart. It won't be long before Tommy is back, stronger and continuing the fight."
Sheridan's lawyer Aamer Anwar also released a statement on his behalf. He said: "This multimillion-pound prosecution will separate me from my wife and child, and that will be heartbreaking, but I will continue to fight a system that protects the real criminals, the reach and the powerful.
"I have today instructed my solicitor to lodge an appeal against conviction, but also to launch a legal action against the News of the World, Metropolitan Police, and Glenn Mulcaire over phone-hacking. In addition, my solicitors will begin to contact a dossier of Scottish names handed to them of those whose phones may have been hacked."
A News of the World spokesman praised the many witnesses who took part in the trial, saying: "This is a just outcome to a long and complex criminal case. Today's sentence also provides closure for the many witnesses who very bravely exposed their own lives to public scrutiny when they testified to Mr Sheridan's guilt.
"Mr Sheridan has been jailed for lying to a court to secure victory when he sued the News of the World for defamation in 2006. At the time he was an elected member of the Scottish Parliament.
"As we have made clear, we have an appeal lodged against that defamation verdict and we now look forward to that appeal succeeding in Scotland's Court of Session."
A statement issued by Sheridan's Solidarity party said the three-year sentence was "barbaric and draconian".
It said: "Solidarity will continue to give our full backing and support and backing to Tommy, and in particular to Gail Sheridan and the family at this difficult time. Neither Tommy Sheridan nor Solidarity will be broken. We stand, as always, in solidarity."
IN DETAIL
Trial's key moments