Glasgow University could cut and merge courses to save £20m
History, archaeology and classics could be merged and anthropology and social work axed, under management proposals.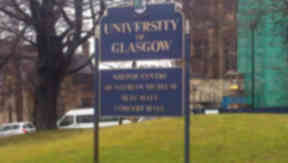 Glasgow University could scrap some courses and merge others in a cost-cutting proposal to help save £20m.
History, archaeology and classics could be merged and anthropology and social work courses axed.
The proposals, by the university's senior management group, will be put forward at a meeting of the institution's court group on Wednesday next week but no decision would be made until a further meeting scheduled for later this year.
The university is also seeking a review of its Centre for Drugs Misuse Research and considering cutting back evening and weekend classes, which cater for up to 5000 adults a year.
The university's Dumfries campus could also be affected with the cut of courses in the liberal arts in favour of an expansion in environmental management.
The proposals would make combined savings of around £3m as part of a wider strategy to find £20m in savings by 2012-13.
A consultation on proposals to save money will get under way after the meeting of the university court next week.
A statement from the Glasgow University branch of the University and College Union (UCU) said: "We would question the motivation of the management group in seeking to consult on these particular areas while the university is trying to reduce staff numbers across campus through a voluntary severance scheme.
"Any consultation process must be based on more than simple economic information and must engage with all academic staff in the university, as well as take on board the views of students and the wider community that the university serves.
"The university court will need to demonstrate that the consultation is valid and that no decisions have been made regarding the future of threatened areas."
UCU will hold a meeting later this week with their members.
A spokesman for Glasgow University said: "The higher education sector currently faces unprecedented financial pressures and this university is responding in a planned and strategic way to the cuts in public funding.
"Our approach is two-fold: to generate more income and to pursue cost-savings.
"After a senior management group review of all aspects of our work, the university court will consider a consultation being carried out into a number of academic areas. The areas affected have been identified within the context of the university meeting its strategic ambitions.
"This is to allow the university to strategically prioritise its activity and to maximise the quality of our teaching and research, so we can continue to be one of the world's great broad-based research intensive universities."