Celtic's Neil Lennon admits driving through red light
The Hoops boss was fined £110 and given three penalty points on his licence after the offence last year on the way to Celtic Park.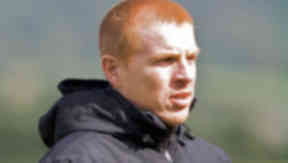 Celtic manager Neil Lennon received three-points after he admitted driving through a red light on his way to work in Glasgow.
The Hoops boss was fined £110 and given three penalty points on his licence at Glasgow's Justice of the Peace court.
The 39-year-old, originally from Northern Ireland, was due to stand trial and eight police officers had been cited to give evidence against him.
But Lennon was not present in court and his lawyer Liam O'Donnell instead entered a plea of guilty on his behalf.
The former Celtic player failed to stop at a red light in Millerston Street, Glasgow, while travelling to Celtic Park at around 8.11am on March 16, last year.
Prosecutor Soraya Malik told the court: "The offence was captured by a fixed site camera at around 8.11am. The accused was written to by police officers asking who the driver was and the accused replied saying that it was himself that was driving."
Mr O'Donnell told JP Eunice Paton that Lennon has no previous convictions and has no live points on his licence.
Offer
The lawyer said that Lennon was having problems with his mail and is unsure of he ever received an offer of a fixed penalty before the case went to court.
He added: "He was going into work at that time in the morning. He is a football manager."
One of Lennon's players, defender Daniel Majstorovic, also pled guilty to driving offences at the city's JP court on Thursday.
The 33-year-old footballer, of Kilbarchan, was fined £90 and given three penalty points for speeding on Springburn Road, Glasgow, on his way to training on September 14 last year.
He was caught driving his Audi A6 at 55mph on the 30mph road at around 10am.
Majstorovic was also absent from the court but Mr O'Donnell again entered a plea of guilty on his behalf.
Mr O'Donnell told the court that the footballer had not been in the country for very long and was unsure of speeding regulations.
Majstorovic signed for the Parkhead side in August last year from AEK Athens in a two-year deal.
The Swedish international has also received 38 caps for his country.
Lennon, who now lives in Glasgow, joined the team in 2000 and captained them to victory in the 2007 Scottish Cup against Dunfermline, securing the league and cup double.
Lennon moved to Nottingham Forrest in 2007 and the Wycombe Wanderers in 2008, but returned to Celtic as a coach.
The two men were both given 28 days to pay their fines.