'Don't go off alone': Police warning to women after Glasgow city centre rape
Police urge girls and women to stay with friends when out in the city after 38-year-old attacked by three men.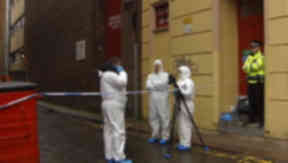 A 38-year-old woman has been raped near a theatre in Glasgow city centre, leading the police to issue a warning to women who are out in the town at night to stay with friends.
Detectives say the victim was walking alone along Renfield Street, towards the Pavilion Theatre, after enjoying a night out with friends. Three men who were walking behind the woman then seriously indecently assaulted her in Renfrew Lane.
STV News understands the woman was raped during the attack in the early hours of Friday.
The suspects are all men of Middle Eastern appearance in their early 20s. They were slim and of average height. One of the men was wearing skinny jeans and a light-coloured brown jacket or top.
As revealed by STV News earlier on Friday, police have been investigating the incident around Renfrew Lane. Officers are currently conducting forensic examinations and are reviewing CCTV evidence in an effort to identify the attackers.
Superintendent Val Thomson of Strathclyde Police said: "Extra officers will be patrolling the city centre and I would like to reassure everyone that the city centre is a safe place to socialise. 
"My advice to women who are on a night out is please stay with your friends, don't go off on your own especially if you are having a drink. We appreciate people will naturally be concerned. I would like to re-assure the community that we are working round the clock to trace the suspect."
Supt Thomson added: "This was a terrifying and extremely distressing attack on the woman who had been on a night out with her friends in the city. They had left each other to head home and she was on her own when the attack took place. 
"I would appeal to anyone who was in the Renfield Street area around the time of the incident or who may have seen the suspects in the area or even witnessed the attack to come forward."
Anyone with information is asked to contact 0141 532 3000 or Crimestopppers, anonymously, on 0800 555 111.
IN DETAIL