Glasgow's Egyptian Halls 'faces demolition'
The owner of the derelict Alexander 'Greek' Thomson building on Union Street says he needs public money to restore it to its former glory.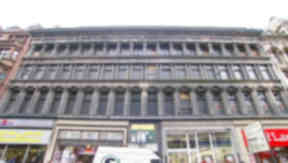 One of Glasgow's most iconic buildings could be set for demolition, according to its owner.
Dundee businessman Derek Souter has chaired a public meeting to announce that due to a lack of funding, time is running out for Alexander 'Greek' Thomson's Egyptian Halls.
The Union Street building is considered to be Thomson's finest commercial building. Once a bustling four-storey indoor shopping centre, it was a symbol of empire and industrial might. But after decades of disuse, the Egyptian Halls are semi derelict and in need of and extensive repairs.
The building, said to be the architect's favourite, has been at risk for many years and mired in complex multi-ownership disputes.
Mr Souter, who has owned the building for the last 13 years, wants to turn it into a 250 bedroom hotel. In the latest round of public funding he has been offered almost £3m, but he says this is not enough. The funding consists of £1.65m from Historic Scotland and £1m Glasgow City Council.
He said: "If you were to demolish the hotel you would make more money, but we don't want to demolish one of Glasgow's architectural masterpieces.
"Neither does Glasgow City Council and neither does Historic Scotland. We need to collaborate effectively and that hasn't happened in thirteen years.
"If I don't get the cash to restore it, it faces demolition."
Sally White, of the Alexander Thomson Society said that the building would not be in danger if it was in another country.
She said: "You know we have had visitors to Glasgow to learn not just about Thomson but all the other great Glasgow architects.
"There does seem to be a different approach even in other parts of the UK, not just abroad."
Neither Historic Scotland nor Glasgow Council attended the meeting to discuss the building's future.