New Zealand earthquake benefit concert at Christchurch Cathedral's Glasgow 'twin'
Special event at St Mary's Episcopal Cathedral in Glasgow, an almost exact twin of Christchurch Cathedral that was partially destroyed in earthquake.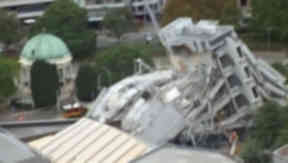 Worshippers will see how New Zealand's historic Christchurch Cathedral looked before it was partially destroyed during a benefit concert at its Scottish "twin" on Monday night.
St Mary's Episcopal Cathedral in Glasgow is an almost exact twin of Christchurch Cathedral.
The damaged cathedral was described by its dean Peter Beck as "the heart of the city", adding that its heart had been "broken" by last week's 6.3-magnitude earthquake that killed at least 147 people.
Glasgow's St Mary's was built at the same time to a design by the same architect.
Scottish singers are coming together tonight at St Mary's, on Great Western Road, for a benefit concert for the people of Christchurch. The concert will also feature the music of several New Zealanders living in Scotland.
Cathedral Provost The Very Rev Kelvin Holdsworth said: "People in Scotland have all kinds of strong links with people in New Zealand.
"This concert is an act of solidarity with the people of Christchurch.
"Christchurch Cathedral is like a 'twin' of St Mary's Episcopal Cathedral in Glasgow, having been built by the same architect at almost exactly the same time.
"As we look around the building in Glasgow, our hearts go out to those who are struggling to cope in a damaged city half a world away."
Choristers from Glasgow Chamber Choir, Strathclyde University Chamber Choir, the RSAMD, St Mary's Cathedral Choir, Edinburgh Singers, Glasgow University Chapel Choir, Edinburgh Royal Choral Union and the Royal School of Church Music (RSCM) Scottish Voices will come together at St Mary's Cathedral in Glasgow's West End. Two New Zealanders studying at the RSAMD will also perform at the concert.
Organiser Michael Bawtree added: "Scotland has very strong links with New Zealand.
"Many of us who will perform have friends and family living and working in Christchurch. Many have visited, lived, performed and worked in New Zealand; others are simply keen to show that support by giving of their time and talent."
Funds raised at this benefit concert will be passed through official channels to those most in need.
Stephen Chambers, an RSAMD opera student from New Zealand who will perform at the concert, said: "My Dad, Dr John Chambers, was in Christchurch on a medical conference when the earthquake hit.
"He managed to escape unscathed from the 14th floor of his hotel, which looked as though it was about to collapse.
"Like so many Kiwis around the world, I feel helpless. I hope that in putting on this concert we can get some money together to aid those hardest hit in the beautiful country that I call home."