Suspected terrorist arrested in Glasgow over Stockholm bombing
30-year-old held in the Whiteinch area of the city following bombing in Sweden last year.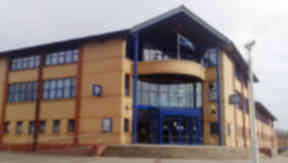 A suspected terrorist has been arrested in Glasgow in connection with a suicide bombing attack in Sweden.
Strathclyde Police arrested a 30-year-old foreign man at around 6.05am on Tuesday in the Whiteinch area of the city. He is being held under the Terrorism Act and was held for questioning in the Govan area of the city.
The address in Whiteinch, along with two others in Glasgow, was being searched by detectives as part of an investigation which has lasted a month.
Tuesday's action by police relates to a bombing in December last year, when a car blew up in a busy shopping area of the Swedish capital Stockholm. A second explosion followed shortly afterwards in what authorities called a "crime of terror".
One man who was found dead after the second blast had been carrying an explosive device. Two people were hurt in the attack. Swedish media named Taimour Abdulwahab al-Abdaly as the suspected bomber. The 28-year-old man - of Iraqi origin - had studied at the University of Befordshire and lived in Luton for a decade.
The Metropolitan Police have confirmed they have been working with officers from Strathclyde Police on the inquiry, which has lasted at least a month. Strathclyde Police is also liaising with authorities in Sweden and Bedfordshire Police.
The Swedish Security Service said in a statement: "Strathclyde Police, Scotland, has today arrested a person suspected of offences under the Terrorism Act.
"Scottish investigations show that there could be a connection between the person now arrested and the terrorist attack in central Stockholm on December 11 2010, something the continuing investigation in Scotland will clarify.
"Strathclyde Police is in charge of the investigation and the arresting. The arrest made in Scotland is the result of the Scottish police investigation, the collaboration between Scotland and Sweden within the scope of international judicial assistance, and a good cooperation between prosecutors and police authorities."
Chief Supintentdent Ruaridh Nicolson of Strathclyde Police told STV News: "There is no specific threat to Scotland." 
A Strathclyde Police spokesman added: "At 0605 hours on Tuesday March 8, Strathclyde Police conducted an operation in the Whiteinch area of Glasgow. This has resulted in a 30-year-old foreign national being arrested under the Terrorism Act (2000).
"The operation centres on a previous incident in Sweden. It was intelligence-led and relates to allegations that this individual has been involved in aiding terrorist activities outwith Scotland."
A Scottish Government spokesman said: "Ministers have been aware of this investigation, and were informed of the arrest. The deployment of our police expertise, and collaboration across boundaries to combat terrorism, are vital in the interests of public safety and reassurance.
"As this is an ongoing investigation, it is not appropriate to comment further at this time."
Police also confirmed that another major operation in Whiteinch was also taking place on Tuesday into a suspicious death in Medwyn Street. It was unrelated to the terrorist inquiry.
STV News provided live Twitter updates from the police press conference. You can see the details below: