A bad note: the bill sent to Titanic violinist who played on as the ship went down
John Law Hume, from Dumfries, was sent an invoice for alterations to his uniform two weeks after he went down on board the ill-fated liner in 1912.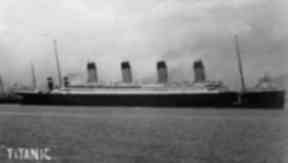 The Scottish violinist who played on as the Titanic went down was billed by his employers after his death for changes to his uniform, a new book reveals.
Aged just 21, John Law Hume from Dumfries was one of the eight-strong band who went on deck and played as the stricken ship slipped below the waves on April 15, 1912.
Two weeks later his father, Andrew Hume, received a bill from CW & FN Black, the Liverpool-based firm that hired the musicians, for five shillings and fourpence for alterations to his uniform.
A letter from the company specified that the charges were for sewing the White Star Line's badge on his jacket, stitching a new collar on to his tunic, and cleaning and pressing the uniform.
Hume was still wearing the jacket when his body was recovered from the wreckage. In a cruel twist, the voyage was due to have been his last on board a cruise liner before he went home to marry his pregnant fiancee.
His great-niece, Yvonne Hume, has written the first biography of the talented young musician, entitled RMS Titanic: The First Violin, which will be published next month.
She said: "Only 15 days after the sinking of the Titanic, and just after his body had been recovered, but not identified, his father received this bill.
"It must have been one of the most chilling and callous acts to come out of the disaster. Naturally, he did not pay it."
She added: "I think it's so sad when you think that he never got to see his baby or his fiancee again.
"He was a very popular and likeable person who was very talented and his story has been passed down through my family. But there has never been a book devoted to him and I think it's time his story was told."
The musicians endured a stormy relationship with their employers, who had slashed their monthly wages from £6 10s a month to £4 and scrapped their ten-shilling uniform allowance just before the Titanic set sail.
The letter sparked a storm at the time when it was reprinted in the monthly newsletter of the Amalgamated Musicians' Union.