The promising student and the brutal killer
Just days before Robert Bayne killed her, Zoe Nelson sent a text message urging a friend to protect her sister from his violent urges.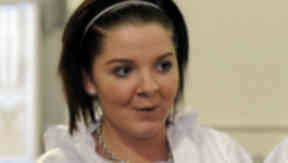 Zoe Nelson was a dedicated student and keen kick-boxer who seemed to have a promising life ahead of her until she was brutally murdered by Robert Bayne.
Just months before she died Zoe, 17, was chosen to meet Princess Anne when the Princess Royal toured the Ravenscraig campus of Motherwell College, where Zoe was studying panel beating.
The court heard Zoe had gone out with Bayne at one stage, but the trial heard he was unfaithful to her and also had a fling with her younger sister Laura Anne, who was 16 at the time.
Bayne, who had the right half of his face decorated with a tribal-style tattoo, was described as a jealous control freak who showered three times a day and often changed his clothes because he was obsessed with keeping clean.
It made it all the more remarkable when he was seen with dirt on his hands and face in the aftermath of Zoe's death.
'Take care of her'
When Laura Anne became involved with Bayne Zoe became concerned and texted a pal, Daniel "Bulldog" Dobson, 19.
"Do me a favour and make sure you take care of her when you are with her and Rab and make sure Rab doesn't touch her," read the poignant message.
But, only two days later, it was Zoe who died at the hands of Bayne.
Trails bike enthusiast Stuart Bell, 45, was riding across an old coal bing known locally as Monkey Hill near his home in Branchalfield Drive, Cambusnethan, Wishaw, on a warm Sunday afternoon in May last year.
In a woodland clearing he saw what he thought was a tailor's dummy, but when he looked closer he realised it was a body.
Zoe's remains were too badly burned for the first police on the scene to tell whether it was a male or female corpse and too badly burned for pathologists to be sure how Zoe had died.
Consultant Julia Bell told the trial that the possibilities for a post mortem were "limited."
But the body did show signs of injury which might have been the result of an assault. That possibility was backed up by smears of blood on an empty tequila bottle found near the body, as though someone with bloodstained hands had grasped the bottle.
Dr Bell said the most likely cause of death was suffocation, possibly as a result of a torn-off piece of heavy duty plastic sheeting, partly melted and still sticking to the dead girl's face.
Murder scene
In the most chilling moment of the trial, Zoe's sister described how Bayne had taken her to see the murder scene.
Laura Anne, who gave evidence from behind a screen, wept as she told how she recognised Zoe's Rangers tattoo.
She kept her grim secret for five days after her visit to Monkey Hill, which happened while police were still searching for the killer. Then, hours before Bayne was arrested and charged with murder, she told police how he had confessed.
Bayne told her how he hit Zoe with his hands and used petrol to burn her body - although forensic scientists could find no evidence of this.
Laura Anne had gone to the house in Harper Crescent where Bayne lived with his grandparents to return some clothes he had left at the home she and Zoe shared in Crindledyke Crescent, Newmains, that Sunday morning.
She noticed Bayne had dirt on his face and hands. He was drinking vodka and looking "dead jumpy" as he said he had something to show her.
Then he led her to the spot known as Monkey Hill, where he admitted to having killed Zoe - a crime he now faces a life sentence for.