Lesbian police officer wins sex discrimination case
PC Tracey West was tormented by her sergeant from Dumfries and Galloway Constabulary.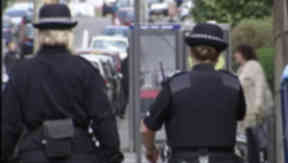 A lesbian police officer who suffered "relentless" homophobic abuse at the hands of her sergeant has won her sex discrimination claim.
PC Tracey West was regularly taunted by Sergeant Michael Service who claimed gay officers were "p**fs and freaks". Sgt Service also made a jibe that her sexuality was an "illness" and spoke about her civil partnership, asking who would "wear the trousers" in the relationship.
PC West was so traumatised by her six-month ordeal she resigned from Dumfries and Galloway Constabulary then emigrated to Australia. The 42 year-old sued the force and Sgt Service for discrimination on the grounds of sexual orientation.
She has now won her case after an employment tribunal ruled she was subjected to "a relentless series of homophobic conduct". Sgt Service has been ordered to pay PC West £7500 while her former employers must pay £2500.
A hearing in Glasgow was told the abuse started in early 2007 at the force headquarters in Dumfries. Sgt Service first made a remark to PC West that he would pass paperwork "over the dyke" to her at the office they shared.
PC West later joined the Gay Police Association. Sgt Service claimed members of the group were all "p**fs and freaks". He also told her that a fellow representative from another force could not come into their office.
Sgt Service claimed he did not want the "p**f" in the room and that any money for tea and biscuits was not to come out of his budget.
Ms West told the hearing: "He apologised for making the p**fs comment and said he didn't know that the term was offensive. He then smirked. He knew what it meant and he was laughing."
The sergeant also said that when he spoke about a colleague sounding "so gay" he meant "happy".
The mother-of-two made an official complaint in August 2007 after more than six months of constant abuse. Sgt Service was forced to resign in April 2008 after 20 years in the force as a result of the proceedings raised against him.
He claimed at the hearing that PC West was lying and that she had made up the accusations to help fund her move to Australia, where her and her partner remain in the police.
In a written judgment, employment judge Raymond Williamson said: "The claimant was subjected to a relentless series of homophobic conduct by Sergeant Service for more than six months and that she suffered significant distress and hurt feelings.
"The behaviour contributed to the claimant deciding to emigrate to Australia and remove herself as far away as possible from the unhappy circumstances of life in Dumfriesshire."