Trident submarine returns to base after mechanical failure
Nuclear submarine develops mechanical failure and suffers power loss while at sea.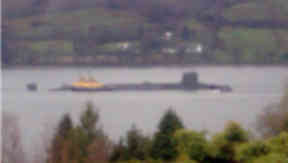 A nuclear submarine has returned to the Faslane base on the Clyde after it developed a mechanical failure that led to a loss of power while it was on a training exercise.
HMS Vengeance, one of the Royal Navy's Trident submarines, experienced difficulties on Thursday night while the vessel was on a training exercise in the North Atlantic.
An MoD spokesman said: "Vengeance has suffered a mechanical defect resulting in a reduction in propulsion. She is returning to Faslane under her own power. She is still at sea."
He added that the incident is "not nuclear related".
The spokesman said he was unable to confirm reports by a newspaper that the submarine's propulsion unit had become fouled by sea debris.
HMS Vengeance is one of the Royal Navy's four Vanguard class submarines that carry the UK's nuclear deterrent. The boat carries up to 48 nuclear warheads on up to 16 Trident missiles. The submarine also carries conventional Spearfish torpedoes.
One of the four submarines is always on patrol as an "insurance policy" known as Continuous At Sea Deterrence. HMS Vengeance carries a crew of 141 and went to sea in 1999.
As well as carrying nuclear weapons, HMS Vengeance is nuclear powered, which allows it to be at sea for extended periods of time without needing to refuel.
The four Vanguard class submarines are all based at the Faslane navy base on the Clyde.