Father robbed building society… so he could pay court fine
Sean Collins threatened Nationwide staff with a tin of tuna filled with plasticine and pretended it was a bomb.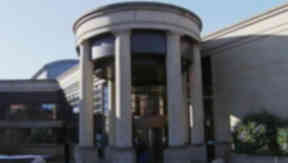 A father robbed a building society while brandishing an empty tin of tuna - so he could pay a court fine.
Sean Collins held up the Nationwide branch in Glasgow's Anniesland by pretending a tin of tuna filled with plasticine was a bomb. Collins fled with £1400, but was later caught when police received an anonymous tip-off.
The desperate 28-year-old confessed to police he carried out the raid last December after losing his job. He had earlier been ordered to pay £2000 to his victim after being convicted of assault, but ran out of cash.
Collins admitted to a charge of assault and robbery at the High Court in Glasgow on Thursday. He faces a lengthy jail term when he returns to the dock next month.
The court heard how Collins went in to the building society in the city's Great Western Road around 4pm on December 7. His face was partially covered by a bright pink scarf and he sported a pair of goggles.
Collins put a tin with wires sticking out of it on the counter and told cashier Charlene McFarlane: "Give me the money".
Ms McFarlane replied: "Are you having a laugh?"
Collins said: "Give me the money or I will detonate it." He then brandished a 12-inch knife that was wrapped in a towel.
The terrified cashier pulled out a cash tray and Collins, from Faifley, West Dunbartonshire, took the money before running off. He was caught on a nearby supermarket's CCTV going in to a toilet and changing his clothes.
Police later received information that Collins was the culprit. He eventually handed himself into police. He told officers that he had lost his job that summer as a result of a "criminal conviction". Collins was ordered to carry out 270 hours of community service and pay his victim £2000 after being convicted of assault in June last year.
Prosecutor Hugh Irwin told the court: "This resulted in him being unemployed. He had fears that he was unable to pay the compensation and his mortgage, which would lead to him losing his home."
The court was told the £1400 that was stolen was never recovered. Judge Lord Brodie remanded Collins in custody and deferred sentencing until May 12 at the High Court in Edinburgh.