Waverley steamer faces shutdown as costs rise
The paddle steamer may have to stop operating unless the charity running can raise £500,000 to cover rising fuel costs.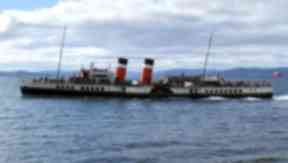 Trips "doon the watter" could soon be a thing of the past as the world's last seagoing paddle steamer struggles to cope with rising costs.
The operators of the Waverley have warned that high fuel prices, combined with a drop in passenger numbers following a string of washout summers, could force the end of a decades-old tradition.
The ship's distinctive twin funnels and circular paddle wheel have become an iconic sight in the Clyde estuary as it ferries passengers to Rothesay, Gourock, Arran and further afield.
Waverley Excursions are now appealing to the public to raise £500,000 that they need to keep the historic boat steaming.
The charity receives an annual grant of £26,000 from Glasgow City Council, but with the boat burning £400 worth of fuel every hour, £3m is needed to cover costs.
Graeme Hogg, of Waverley Excursions, told STV News: "We're now faced with an extra fuel bill for this season alone of a quarter of a million pounds. Unless we can find ways of plugging this gap, this could be the last year that we're able to sail the ship because the economics become unviable beyond that.
"We think we're providing an excellent service, both from a tourism point of view and from an educational point of view, because there isn't another ship like this left."
Gordon Johnston, one of dozens of volunteers who keep the Waverley running and whose family have been enjoying the cruises for five generations, said it was a case of "use it or lose it".
He said: "Waverley has been here for all these years, it's done a great service and it would be a terrible loss to Scotland."