Robot cleaning Scotland's underground reservoirs
Remote-controlled robot cleans underground tanks so that they do not need drained and cleaned.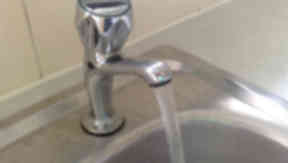 Water chiefs are using an underwater robot, dubbed Wall-E because of its resemblance to an animated movie character, to clean underground reservoirs holding Scotland's drinking water.
Use of the VR600 machine means engineers do not have to drain and clean the water tanks manually.
The robot, owned by water quality engineering firm Panton McLeod, is fitted with cameras and lights and is remotely operated from the surface, allowing operators to check the inside of the tanks. It can move along the floor of any water storage structure and removes sediment or impurities in the water.
Resembling the Disney-Pixar character which tidies a rubbish-covered earth of the future, the robot can also inspect the water tanks' walls and pipework for damage.
Recently it was used by Scottish Water to clean and inspect a huge underground reservoir at Springburn Park, which holds millions of litres of water for households in part of the north east of Glasgow. The company has also used the robot in underground tanks at Dunoon and Campbeltown.
Barclay Smart, operations manager with Panton McLeod, said: "The beauty of our technology means we can carry out a thorough cleaning project whilst ensuring the supply through the reservoir is totally unaffected.
"Our VR600 robot, which looks like a bit like WALL-E, can clean the bottom of a storage tank and remove impurities in the water without causing any disruption to supplies or affecting the quality of the water."
The robot has also been used at locations around the UK.