Ikea twister filmed in store car park near Glasgow
Footage shows dramatic whirlwind sweeping through car park in Braehead.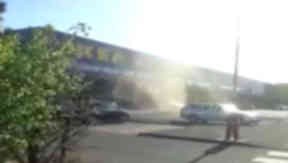 Shoppers and staff at Ikea at the Braehead shopping complex in Renfrewshire were amazed to see a 'tornado' sweeping through the car park.
Video footage shot by a passer by on his mobile phone shows the rotating winds moving between cars parked outside the shop.
It was filmed on Wednesday April 27 at around 5.30pm five by Alastair Brown, 28, a supermarket worker from Renfrew.
He had gone to the store to return a piece of furniture when his wife Louise spotted the unusual cloud of dust and debris.
He said: "It was stationary when my wife spotted it, then it began to move towards the Ikea building, and by that time I had pulled out my mobile phone and recorded a video.
"My wife Louise spotted it first and said: 'That looks like a tornado. There was a car that stopped, it didn't want to go towards it.
"Ikea staff who were watching from the side were stunned by what they saw."
The tornado, although appearing dramatic, did not cause any damage.
He added: "I texted my mum and she didn't believe me!"
STV weather presenter Sean Batty explained: "It looks like a local wind effect, similar to a dust devil, that starts on the ground and travels upwards. 
"Tarmac and concrete get hot on a warm day and this causes the air to lift, creating a suction effect. The rising air would then turn in an anti-clockwise direction as it lifts.
However, he added that the phenomenon was not actually a tornado, saying: "For it to have been a tornado it would needed to have extended downwards from a cumulonimbus cloud, which we didn't have yesterday."