Tall ship Glenlee moves to new home on the Clyde
Historic vessel moves to new home alongside new Riverside Museum.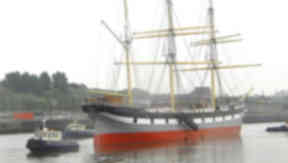 **The tall ship SV Glenlee has moved along the Clyde to her new berth alongside Glasgow's new Riverside Museum. **
The vessel is a city landmark and attracts 35,000 visitors a year.
The Glenlee was built in Port Glasgow and took to the sea in 1896, working as a bulk carrier.
The ship was bought by the Spanish navy in 1922, where it was used as a training vessel until 1969.
It then was used as a training school until 1981, when it was laid up in Seville harbour, where it was discovered in 1990 by a British naval architect.
In 1992 it was bought at auction by the Clyde Maritime Trust who saved it from the scrapyard and restored the vessel over a six year period.
The Glenlee is one of only five Clydebuilt sailing ships left afloat around the world. Three are located in the USA - the Balclutha, the Moshulu and the Falls of Clyde, while the fourth, the Pommern, is in Finland.
The tall ship has been at Glasgow's Yorkhill Quay for 12 years, where it has become one of the city's most popular visitor attractions.
The Glenlee will be berthed at Pointhouse Quay alongside Glasgow's new transport museum and will open to the public on the same day as the Riverside Museum, June 21.