Memorial to victims who died in wartime disaster to officially open next week
First Minister to join Archbishop Conti to open Glasgow memorial to the 805 victims of the Arandora Star disaster.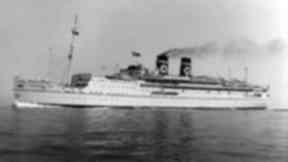 A memorial garden featuring the largest monument dedicated to victims who died aboard a cruise liner which sunk in 1940 will be officially opened next week.
First Minister Alex Salmond will join Archbishop of Glasgow Mario Conti to open the Italian Cloister Garden next to St Andrew's Cathedral in Glasgow on Monday.
They will welcome 91-year-old Rando Bertoia, the only living survivor of the Arandora Star, which was torpedoed by a German submarine, killing 805 people.
The British-registered Blue Star liner sunk off the west coast of Ireland while carrying German and Italian "enemy aliens" and prisoners of war.
Around 100 Scots-Italians died during the voyage, from Liverpool to St. John's in Newfoundland, Canada, and their names will be inscribed on a marble plaque inside the garden.
The silver-mirrored central monument will recall all of those who died aboard the liner, the majority of whom were Italian civilians.
It is the largest monument dedicated to the disaster anywhere in the world.
Relatives of those lost during the tragedy are expected to attend the opening of the garden, which was designed by Roman architect Giulia Chiarini.
Archbishop Conti said: "Every so often in life an opportunity comes along to make a difference.
"That opportunity arose when I began planning the renovation of St Andrew's Cathedral.
"A space to the east of the cathedral, which had lain vacant for many decades, was identified as a suitable place to create a cloister garden, offering space for parishioners and visitors alike to relax and contemplate.
"The central monument is an interactive installation, built next to a 200-year-old olive tree gifted by the people of Tuscany, which encourages us to reflect on the great mysteries of life, death and resurrection.
"What people will see and experience on a visit to the garden is a result of the generosity of today's Scots-Italian community, who raised the funds to create the installation."
Mr Salmond, who helped launch the project three years ago, said: "This oasis of peace and contemplation at St Andrew's Cathedral is a magnificent tribute to those who tragically lost their lives aboard the Arandora Star during the Second World War, and to the part the Scots-Italian community plays in the rich tartan fabric of our nation."
Councillor Gordon Matheson, leader of Glasgow City Council, added: "Glasgow's historic buildings help to tell our city's unique and individual story.
"I hope that the garden will be a fitting memorial for our Scots-Italian neighbours to come and remember the victims of the Arandora Star tragedy."
IN DETAIL