Anthony Stokes's father arrested again in Real IRA inquiry
John Stokes is believed to have handed himself in to police in Dublin after returning home from the Celtic v Hearts match at the weekend.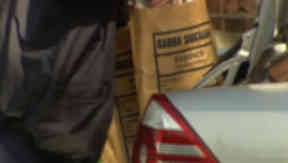 The father of Celtic star Anthony Stokes has been arrested for a second time by detectives probing dissident republican activity.
It is understood John Stokes, 54, handed himself in to a Garda station in north Dublin late on Monday afternoon.
Detectives investigating a long-running turf war between the so-called Real IRA and organised crime gangs in the Irish capital targeted the pub owner's house yesterday as part of a wave of raids linked to the operation.
But it is believed he was in Scotland at the Hearts v Celtic match and presented himself to Garda officers on his return.
He is being questioned at Store Street Garda station under section four of the Criminal Justice Act on suspicion of having demanded money with menaces.
Three men who were arrested during yesterday's raids appeared in court today charged with public order offences and were remanded on bail to June 24.
John Stokes runs the sports bar Players Lounge in Fairview, north Dublin.
Detectives are investigating allegations that another pub in the city's northside was targeted as part of an extortion racket in March.
Last month, John, his wife Joan Stokes, 55, mother of the young Hoops striker as well as the footballer's uncle Paul Byrne, 46, were arrested after bullets, cocaine and three stun guns were discovered in a shed at the back of his pub.
All three were later released without charge and a file was sent to the Director of Public Prosecutions.
Three men, including a doorman and two customers, were gunned down outside the Players Lounge in July last year.
Earlier this year, John Stokes was ordered to remove a massive 40ft banner barring the Queen from his pub during next week's historic state visit to Ireland.
He said he reluctantly agreed to take down the banner after a senior garda threatened to object to his application for late licences.