Arrests after protesters bring Grangemouth docks to standstill over power station plans
The Action Against Agrofuels group staged a protest at Grangemouth docks on Monday morning.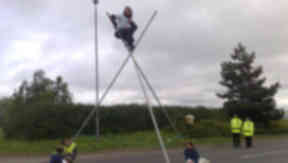 Protesters who brought Grangemouth docks to a standstill in a demonstration against plans for a wood-burning power station have been arrested.
Members of Action Against Agrofuels chained themselves to a tripod, which they had constructed themselves, blocking the Central Dock St entrance to the Forth Port docks.
A human chain was formed by protesters at the South Shore Road entrance, blocking the road from around 7.45am on Monday. A large number of officers from Central Scotland Police were called in to deal with 20 activists.
The South Shore road entrance was reopened at 1.25pm after the human chain was broken up by police.
Police continued their discussions with those protesting at the entrance at Central Dock Road, where officers used cutting tools to remove protesters from the 20ft tripod blocking the entrance.
Arrests
In total, seven protesters were arrested for allegedly causing an obstruction at Grangemouth docks.
Four people were arrested in the human chain at South Shore Road and three others were arrested at the tripod in Central Dock Road.
All seven are in custody and are expected to appear at Falkirk Sheriff Court on Tuesday.
Superintendent Robbie McGregor, Falkirk Area Commander said: "Every effort was made to resolve this peacefully.
"The protestors were given every opportunity to end their demonstration and having failed to do so were arrested for causing an obstruction.
"We sought to minimize the impact of the protestors' activity for business in and around Grangemouth, and in particular the port, with a view to restoring normality as soon as possible."
The Grangemouth docks was closed to all traffic while the peaceful protest at both entrances took place.
A 'massive success'
Maryla Hart, a member of the protest group, said: "We blocked both entrances to the Forth Port in protest against plans for the four biomass plants.
"There is no way biomass on that scale could be sustainable, it leads to more rain forests being chopped down, which is immoral.
"The protest has been a massive success as tankers have not been able to get in or out of the port.
"The police have been very cooperative, they have said we have a right to protest peacefully and they were looking to negotiate a time for the tripod to come down, but I don't think that is happening so they looked to use bolt cutters to bring the people off it.
"There could well be more action like this in the future, so long as the Scottish Government continues to classify biomass as a renewable energy, which it isn't."
The proposed biomass power station, which is understood to be the target of the protest, is part of £1bn plans to establish similar facilities at dock in Dundee, Rosyth and Leith.
Forth Ports and Scottish and Southern Energy are behind Forth Energy, the group that has commissioned the project.
'Disrupted' local community
Calum Wilson, managing director of Forth Energy, hit back at the protesters, who he claimed had hurt the local community in Grangemouth.
He said: "Today's action at the port of Grangemouth clearly consisted of people from outside the local area who have formed themselves into a minority fringe group.
"Whilst the impact on shipping operations in the port itself was minimised, their actions today disrupted the local community and the livelihoods of members of the haulage industry across Scotland. They sought to bypass the proper planning consultation process and could have compromised safety had there been an emergency at the port.
"The proposed renewable energy plant at Grangemouth will use sustainably sourced fuel, produce low carbon electricity and heat and is safe. This plant will produce 84% less carbon than current average electricity generation from the national grid.
"It will make a significant contribution to Scotland achieving its 2020 renewable energy targets, help provide long term energy security for Scotland while providing 500 jobs during the construction phase and 70 permanent roles going forward."