West Dunbartonshire is top UK unemployment blackspot
More than 40 people on Jobseeker's Allowance are chasing every vacancy in the area.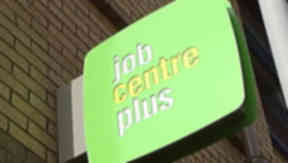 Parts of the west of Scotland have been named as the UK's worst unemployment blackspots.
West Dunbartonshire and East Ayrshire have overtaken the inner boroughs of London as the hardest places to find a job, according to a new study by the TUC. More than 40 Jobseeker's Allowance claimants are chasing every vacancy in West Dunbartonshire, while in East Ayrshire the figure is 33.
The picture was similarly bleak in South Lanarkshire and Midlothian, where the number of claimants to every job vacancy has risen sharply over the past six years.
According to the study, the UK average is six claimants for every job. The TUC analysis, published ahead of the latest unemployment figures this week, looks at the proportion of Jobseeker's Allowance (JSA) claimants to Jobcentre Plus vacancies in every local authority from March 2005 to March this year.
This analysis ranks each of the 206 local authority areas by its claimants-to-vacancies ratio. In March 2005 the London borough of Newham was ranked the worst employment blackspot in Britain with nearly 15 jobless applicants for every vacancy.
Across Britain, the number of dole claimants per vacancy has quadrupled from 1.5 in 2005 to six this year. Meanwhile, Moray in the Highlands has had the most positive labour market change, moving from a ranking of 26th in 2005 to 98th in 2011.
TUC General Secretary Brendan Barber said: "People living in inner London boroughs have had tough job prospects for many years but since the recession new employment blackspots have emerged.
"There is a stark jobs divide across the country with parts of Scotland and the Tees Valley experiencing a far sharper downturn than parts of the South-East.
"We are still in the midst of a jobs crisis. Dozens of towns and cities have more than ten dole claimants chasing every vacancy and areas on their doorstep are not faring much better. It's not good enough for ministers to brand those out of work as feckless and claim that there are plenty of jobs out there. The reality is very different."
Gemma Doyle, Labour MP for West Dunbartonshire, said: "This is shocking news and confirms the Government is cutting too hard and too fast."
SNP Finance Secretary John Swinney added: "Continuing our efforts to tackle unemployment and to grow our economy will be a key priority of the re-elected SNP Government as we support training opportunities with 25,000 apprenticeships a year, back Scotland's small businesses to create employment with the small business bonus and work to re-industrialise Scotland creating new jobs in our low carbon industries."
A Department for Work and Pensions spokesman stated: "Our new Work Programme, which comes on stream next month, will give people personalised support and training to help them into work, whatever barriers they face."