Paedophile posted picture of abuse of two-year-old on Facebook
More than 7000 indecent images were found on John Huitema's computer in Glasgow's west end.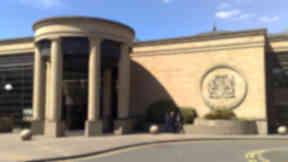 A paedophile was caught after he posted a picture of him abusing a two-year-old girl on a social networking site.
John Huitema, 37, was reported to police after indecent images were uploaded to his Facebook page.
When officers arrived at his house in Glasgow's west end, Huitema told them he wanted to "get something off his chest" after giving them passwords for his computer.
In total 7269 images of children were recovered from Huitema's home.
At the High Court in Glasgow on Friday, Huitema admitted to possessing and taking or making indecent photographs of children between July 2008 and January 2011.
He also pled guilty to distributing or showing indecent photographs of children in January this year and to sexually assaulting a two-year-old in January.
The Dutch national was caught when police received information from the Child Exploitation and On-Line Protection Services. They reported that the user of the Facebook profiles 'Benwwantsit' and 'Barrywwantit' had posted indecent images.
The court heard that officers arrived at Huitema's house on January 21 and asked him to provide passwords for his computer. 
Advocate depute, Tim Niven-Smith prosecuting said: "The accused provided the password for his computer then stated he wanted to 'get something off his chest'."
Mr Niven-Smith said Huitema confessed to police that he had downloaded indecent images of a two-year-old girl and one photograph showed him abusing her.
When police returned later that day Huitema was asked if he had any indecent images he responded by showing officers a computer, two laptops and a number of CDs.
He was then arrested and questioned by police.
Mr Niven-Smith told the court: "During the course of the interview the accused was informed he would be asked questions regarding the possession of indecent images of children to which he stated 'I have images of younger persons on my computer'."
He was asked the age of the people in the photographs and stated, 'varying range mostly teens'.
He also told police he had posted a picture of him abusing the toddler and that he had "quite a few reactions from people who seemed to like it".
Records of Huitema's online conversations from the computer were recovered and showed comments about the image of the young girl, including "very nice baby" and "nice one I know men who pay for a baby".
Judge Lady Dorrian deferred sentence until next month for reports and placed Huitema on the Sex Offenders' Register.