Protest group occupies government building
Public advice centre at an HM Revenue and Customs building in Glasgow occupied by protest group.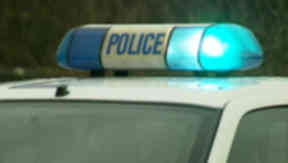 A protest group which occupied a government building said that disabled people were being labelled as "scroungers" during the cuts to public services.
The 16-strong group entered the public advice centre at an HM Revenue and Customs building in Glasgow and held up placards, shouting "No to the rich".
Protesters gathered in George Square in the city centre before walking to the HMRC offices in Cochrane Street.
Peter Lockhart, 51, from Cowdenbeath in Fife, said: "Disabled people are really suffering under this government. The disability allowance has been abolished.
"There are also all of these stories calling us scroungers. We are being used as scapegoats.
"The big corporations and the really wealthy are not paying their fair portion in taxes.
"They are putting their money in offshore accounts and tax havens. If the government went after them that would tackle the deficit."
Mr Lockhart has been using a wheelchair since a car accident ten years ago. Around four people also stood outside the entrance to the building.
Protesters ended their occupation after around 40 minutes when police arrived and spoke with them.
John McArdle, from the Black Triangle anti-defamation campaign in defence of disability rights and who also joined the demonstration, said: "Disabled people have been used as scapegoats in the mass media and labelled as workshy and scroungers. That is based on no empirical facts.
"We believe that these cuts are ideological. We reject the false narrative of there is no alternative.
"Disabled people are having their homecare cut, are being left without care to sit in their own excrement. They have fundamental human rights."
Mr McArdle said the cuts breach the human rights of disabled people under the United Nations' Convention on the Rights of Persons with Disabilities.
He continued: "We are protesting about a £120bn tax gap owed by corporations and private individuals.
"Why should disabled people suffer for a crisis that was caused by systemic flaws in the financial system?"
Sean Clerkin, spokesman for Citizens United Against Cuts to Public Services, said: "This action calls for revenues that have accrued to Westminster, such as the fossil fuel levy of £200m, excise duty, corporation tax and the Crown Estates revenue, together with borrowing powers of £5bn in capital and current expenditure, should be transferred to the Scottish Government to fund first-class public services.
"The Westminster government is not providing the necessary money for this."