Plane from Glasgow Airport makes emergency landing in Frankfurt
Flight heading for Greece lands safely after suffering an engine failure over Holland.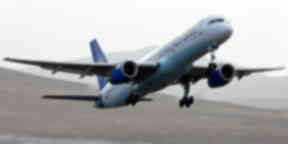 A plane carrying 278 Scottish holidaymakers to Crete has been forced to make an emergency landing at Frankfurt Airport.
The plane, a Boeing 757, left Glasgow Airport on Tuesday evening and issued an general emergency warning while flying over Holland before diverting to Frankfurt Airport.
The fight, number TCX3018, was heading for the Greek city of Heraklion and was operated by Thomas Cook.
Timo Ross, the duty manager at Frankfurt Airport, said: "The plane landed safely at 20.58 local time. There was a failure on engine number two.
"Emergency services were put on standby and met the flight on arrival."
The plane's pilot sent out an emergency code at 6.14pm UTC while the plane was flying at height of more than 29,000ft over Holland.
All the passengers from the flight were taken off the flight and have been in Frankfurt overnight.
Rachael Totten, 19, from Shotts was on the flight and is still in Frankfurt. She says that the situation is confusing for passengers and that they are not getting any information.
"There is not one representative from Thomas Cook here, we have spent 12 hours on the airport floor and there is no one here to speak to us."