Mystery as UFO footage emerges
Glasgow man wants to know more about diamond clouds filmed five years ago.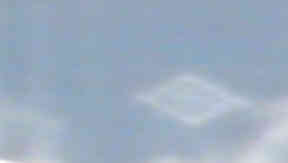 John McGregor's UFO footage, filmed in Glasgow in 2006.
A Glasgow man investigating unexplained flying objects over his home has urged anyone else who may have seen something strange to come forward.
John McGregor, who lives in the Whiteinch area of the city, has decided to release a video he filmed in 2006 in an effort to find out more about strange diamond clouds moving at speed.
In his film, shot on a camcorder, the object can be seen moving quickly across the sky with white lights flashing occasionally from it. John, who is in his 50s, told STV News he believed the objects were military aircraft, and the lights were weapons being fired.
He added: "I have seen the objects several times since 2004, the most recent time being in January this year. I was just watching TV and went over the window and saw this object, so I got out the camera and started to film.
"I want to highlight it to find out more about them."
Mr McGregor said he has told the Ministry of Defence about the UFOs, which he claims have been seen by other members of his family.
UFOs IN DETAIL