Scotland's top police officer favourite to be new Met commissioner
Stephen House has emerged as the front runner to replace Sir Paul Stephenson, who resigned during the phone hacking scandal.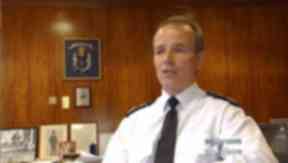 Scotland's top police officer is the front runner to be the next commissioner of the Metropolitan Police, STV News can reveal.
Stephen House, chief constable of Strathclyde Police, has been asked to apply for the post by senior officials after Home Secretary Theresa May and London Mayor Boris Johnson approved him for the job.
It follows the resignation two weeks ago of Sir Paul Stephenson, who quit his £250,000 per annum post in the wake of the News of the World phone hacking scandal.
Mr House has led several high-profile campaigns since joining Strathclyde Police in 2007. He has spoken out on issues including minimum pricing on alcohol, football hooliganism, sectarianism and domestic abuse, and of course his pet project of a single Scottish police force, which has been endorsed by the SNP Government.
He was born and raised in Glasgow and studied at Aberdeen University before joining the police. He served with several forces before joining the Metropolitan Police as assistant commissioner.
He worked on major operations like the Brighton bombing and the miners' strike, before heading Scotland's biggest force. It is a CV which has prompted Ms May and Mr Johnson to approve him for the Met's top job.
Mr House would have to deal with the ongoing News of the World affair, which has rocked the country and its confidence in its biggest police force. He will also have to manage the arrangements for the London Olympics - now less than a year away.
There will be other applicants for the position, but senior officers at the Met, the Home Office and the office of the Mayor of London want him. He's been asked to apply and is believed to be the clear favourite for the job.
IN DETAIL