Scottish Government claims it has been 'vindicated' over Lockerbie bomber's release
The SNP administration says 'extensive scrutiny' has shown that Abdelbaset Ali Mohmed al Megrahi was released on 'compassionate grounds alone'.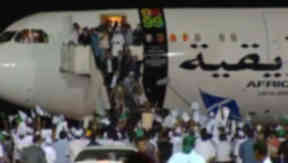 The Scottish Government has hit back over renewed criticism for its decision to release the Lockerbie bomber on compassionate grounds.
Two years after a doctor ruled Abdelbaset Ali Mohmed al Megrahi had less than three months to live, his continued survival has prompted angry recriminations from politicians and some victims' relatives.
But the Scottish Government said its decision had been "vindicated" and denied that minsters had bowed to political or economic pressure.
Mr Megrahi was diagnosed with terminal prostate cancer while serving a life sentence in Greenock jail and released on August 20, 2009.
Dr Andrew Fraser, the Scottish Prison Service's director of health and care, said in a report that the three-month prognosis, which is a condition of compassionate release, was "reasonable".
The report also stated that no-one "would be willing to say" if Megrahi would live beyond that time.
Cancer drugs
A spokesman for First Minister Alex Salmond said: "Two years of extensive scrutiny, under three jurisdictions, vindicates the position that the Justice Secretary released al-Megrahi on compassionate grounds and compassionate grounds alone, based on the rules and regulations of Scots law and the reports of the Parole Board for Scotland, the Prison Governor and the Scottish Prison Service director of health and care Dr Andrew Fraser - all of which have been published."
There has been speculation that the bomber may be being kept alive with medication not available in the UK.
Consultant urologist professor Roger Kirby, founder and director of The Prostate Centre in London, said he believes that abiraterone is likely to be responsible for Megrahi's survival.
He said: "He has long outlived the speculative three-month prognosis and it appears he may continue to do so for a while yet. I strongly suspect that this drug has been central to that."
Of the 270 people who died when Pan Am Flight 103 was blown up in December 1988, 189 were Americans. US families were among the most vocal critics of the decision, along with President Barack Obama.
Bob Monetti, from New Jersey in the US, who lost his son Rick in the attack, said: "The whole thing was a put-up job to start with. He was released because they (the Government) wanted business with the Libyans."
Pamela Dix, whose brother Peter was killed in the bombing, said: "It's extremely frustrating that we're here, still talking about this.
"The fact that it's now years later means that the decision was probably made on a spurious basis.
"I'm sure Kenny MacAskill made it in good faith, but why are we having this discussion now? It's just another thing that remains unsolved."
'In tatters'
Scottish politicians have also been critical of Mr MacAskill, with Labour leader Iain Gray making fresh calls for the Government to publish all the medical evidence.
He said: "It is a further insult to the victims that he (Mr Salmond) refuses still to publish all the medical evidence the release was based on.
"If the decision was made for humanitarian reasons, he should do the humane thing and apologise for the pain caused to the relatives."
Conservative justice spokesman John Lamont claimed the Government's case for releasing Megrahi was "in tatters".
Mr Lamont said: "Mr Megrahi murdered 270 people in the skies over Scotland [Editorial note: 11 of the 270 victims were Lockerbie residents killed by falling wreckage]. He showed no compassion to his victims.
"He has admitted his guilt by dropping his appeal. Indeed, the Justice Secretary has made it clear that he believes that Mr Megrahi is guilty.
"Yet he was been allowed to return to Libya to a hero's welcome. That was so fundamentally wrong. The SNP's case for release lies in tatters."
IN DETAIL
Lockerbie bombing: Two-year anniversary of Megrahi's release