'That's a wrap': Brad Pitt movie World War Z finishes Glasgow shoot
Praise for city from film's producer after zombies and celeb spotters take over George Square.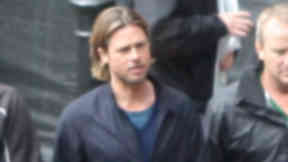 Brad Pitt fever will come to an end on Wednesday as production of the zombie movie World War Z packs up and leaves Glasgow.
For the past two weeks, George Square and a number of surrounding roads have been transformed into the American city of Philadelphia, with 1200 extras, zombies, yellow taxi cabs, explosions and car crashes all on show.
Since Pitt, his partner Angelina Jolie and their children rolled into Glasgow on a specially chartered train, thousands of people have flocked into Glasgow city centre for a chance to see the star. World War Z's producer Jeremy Kleiner has praised Glasgow and its people.
"We filmed some key scenes for World War Z here in Glasgow," he commented.
"The cooperation we had from the Glasgow Film Office and indeed from across the city council made it all possible, and the people of Glasgow were incredibly welcoming. It's been a very successful shoot here."
Glasgow City Council and Glasgow Film Office are delighted with the project, stating the film has contributed £2m to the local economy. Motoring and pedestrian restrictions in George Square will be lifted on Wednesday night.
Leader of Glasgow City Council, Gordon Matheson, added: "The past fortnight has been memorable for Glasgow. Our great anticipation of what World War Z would bring to the city was matched by the amazing transformation of George Square and the surrounding streets into the centre of Philadelphia.  
"One of the most satisfying elements of this time was Glasgow proving that we have the infrastructure to host a production on such a scale, a showcase that will hopefully bring many more major films here.
"I am delighted to pay tribute to Glasgow Film Office in attracting the production to the city and to all the other council staff who helped to ensure the smooth running of World War Z."
Only time will tell if this hope will turn into reality. Parts of One Day, the film starring Anne Hathaway currently showing in cinemas across the country, were filmed in Edinburgh, while it was revealed on Tuesday that Juliette Lewis - star of Natural Born Killers - will film parts of Justin Molotnikov's thriller Blood or Water in the capital early next year.
Lewis will star alongside Bafta nominee Stephen McCole as well as Greta Scacchi, Kate Dickie and Gary Lewis. Halle Berry is also set to film in Scotland, with newspaper reports at the weekend suggesting she will travel to Glasgow to shoot scenes for her new movie Cloud Atlas.
IN DETAIL