'Darth Vader' robs petrol station then flees on bike
Francis Anderson robbed a garage while wearing a helmet worn by the villain in the Star Wars movies.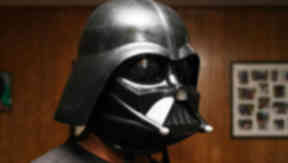 An armed robber who wore a Darth Vader helmet during a raid on a petrol station has been jailed for five and a half years.
At the High Court in Glasgow Francis Anderson, 39, was convicted of robbing a Jet garage in Hurlford Road, Kilmarnock on November 14 last year.
The court heard that Anderson went into the petrol station armed with an imitation gun and threatened to shoot staff. He then robbed them of £270.
After running out of the garage Anderson made his getaway on a bike. The robbery was captured on CCTV and police acting on a tip searched the house where Anderson was staying in Bridgehousehill, Kilmarnock, and discovered the helmet.
Throughout his trial Anderson denied carrying out the robbery.
Jailing Anderson, who has 46 previous convictions, judge Lord Turnbull told him: "You have a quite atrocious record for crimes of dishonesty.
"This latest offence is an escalation of your previous convictions. This robbery was carried out on premises where staff carry out a valuable service to the public."
As he was led away to start his sentence Anderson said to Lord Turnbull: "Thank you my lord for nothing."