Halle Berry in Glasgow this weekend to film new movie Cloud Atlas
The Oscar winner will film scenes for the movie but another Hollywood star rumoured to appear in Glasgow will not be there.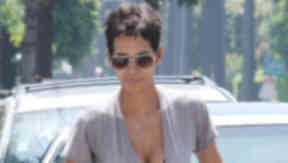 Just a few weeks after Glasgow was taken over by Brad Pitt and zombies, another Hollywood production is set to film in the city this weekend.
Cloud Atlas, which has an all star cast including Tom Hanks, Jim Sturgess, Hugo Weaving and Susan Sarandon, will film in parts of the city centre between September 16 and September 18, before returning on September 26.
Glasgow City Council confirmed another star of the film, Oscar winner Halle Berry, will be in the city for the shoot. Tom Hanks, on the other hand, will not.
Cloud Atlas is based on David Mitchell's novel of the same name. Some of the filming for the movie is taking place in Germany. In Glasgow, a few roads will be closed while a few more will be partially shut around the Blythswood Square area.
The filming is a coup for Glasgow City Council's Film Office just weeks after the city's George Square was taken over by car crashes, explosions, hundreds of extras dressed as zombies and hundreds more locals and tourists trying to meet Brad Pitt and his partner Angelina Jolie.
When asked about Cloud Atlas a few weeks ago, David Brown - the Scottish line producer of the film - said: "We are very pleased to be coming to Glasgow later this month. The principal reason for coming to Glasgow is the welcome that the city gives to film-makers.
"We are overwhelmed by the support and encouragement we have received from everyone in the city. This can-do attitude is turning Glasgow into a highly attractive proposition for film-makers across the world.
"In addition to a positive approach and its position as the gateway to the rest of Scotland, the city's architecture and classic grid system makes it uniquely appealing."
Glasgow City Council leader Gordon Matheson added: "It is fantastic news that another major production is coming to film in Glasgow, and another sign that we are becoming the UK's film-friendliest city.
"The recent experience of the filming of World War Z in the city was extremely positive and we look forward to welcoming Cloud Atlas later this month."
IN DETAIL