Cemetery sign spelt wrongly by council workers
Visitors to Riddrie Park Cemetery in Glasgow are welcomed to 'Riddire Park'.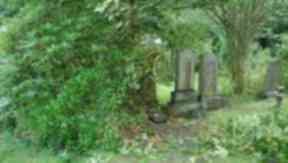 Bungling council workers have been slammed for mis-spelling the name of Glasgow's biggest graveyard on its entrance sign.
Visitors to Riddrie Park Cemetery, in the southside of the city, are welcomed to "Riddire Park" at the main gates.
Grieving relatives claimed the shambolic sign was just another example of the disregard Glasgow City Council has shown to the "uncared for" cemetery.
Brian Dunn, 47, revealed he has to walk over the graves of war dead when visiting his family's site because a fallen tree branch has blocked the path to them for months.
He said: "The only way to get to my family's grave is to walk over others because the path is blocked and its very uncomfortable.
"The area around the graves is overgrown with weeds and moss and looks more like a rubbish dump than a place of rest.
"I expect more respect to be shown by Glasgow City Council but you only have to look at the sign at the entrance to see they put little thought or care into their cemeteries. It is dire indeed."
Riddrie Park Cemetery opened in 1901 and is home to 350 war dead, 248 from the Second World War.
Many of the war graves are scattered across the large site, however at least 16 are in one section which was recently closed to the public because of subsidence. The area was built over coal mining works which made it unstable.
A spokesman for Glasgow City Council said work would be carried out to improve the cemetery.
He said: "We were unaware of any tree causing problems for relatives visiting graves and our arborists will visit the site and deal with the issue. The sign will, of course, be changed."