Hollywood star Halle Berry struggling with climate as she films movie in Glasgow
The actress is filming Cloud Atlas which also stars Tom Hanks and British actors Jim Broadbent and Jim Sturgess.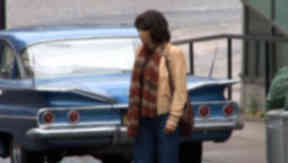 Hollywood A-lister Halle Berry has began filming her new movie Cloud Atlas in Glasgow although appears to be struggling with the cold climate.
Berry, dressed in blue jeans and a beige jacket, recorded part of a scene for Cloud Atlas, which sees a car crash in Douglas Street in the city.
The celebrity was seen clutching a hot water bottle to keep her hands warm during recording in Glasgow.
After "cut" was shouted on set, the actress did a little dance before donning a long black overcoat.
Vintage American cars, including a Lincoln Continental Mark IV and a Packard Clipper Custom, were also parked in the street, with Revere Avenue and Kirkwood Avenue signs erected on the set.
The movie shoot comes just weeks after Brad Pitt's movie brought the city centre to a standstill with filming of World War Z.
Jennifer Reynolds, a film commissioner at Glasgow Film Office, said: "It's a German production and they had been scouting areas in the UK because some of the script is set in the UK.
"So they were looking at areas in Scotland - I think Edinburgh and Glasgow - but one thing Glasgow had that worked for them was the geography of Glasgow - quite a few steep hills - and it could replicate San Francisco in the United States.
"So we managed to secure about three days' filming for a section of the book that is 1970s San Francisco. Another part of the story is set in modern-day London and we are also filming another day or two of that as well."
She added: "It is quite a substantial film so it's obviously going to bring a good economic benefit to the city and there's local crew being hired and used on it and local companies and their services as well as hotels and restaurants.
Cloud Atlas, out next year, is based on British author David Mitchell's best-selling 2004 novel, which was shortlisted for the Man Booker Prize.
The unconventionally-structured novel of interlinking narratives charts the story of one soul across the centuries.
It also features Tom Hanks and British actors Jim Broadbent, Jim Sturgess and The Hour's Ben Whishaw.
Speaking earlier this month, David Brown, Scottish line producer for the film, said: "We are overwhelmed by the support and encouragement we have received from everyone in the city. This can-do attitude is turning Glasgow into a highly-attractive proposition for film-makers across the world.
"In addition to a positive approach and its position as the gateway to the rest of Scotland, the city's architecture and classic grid system makes it uniquely appealing."
Filming takes place in Glasgow from September 16-18 and on September 26, and some roads in the city centre, south of Blythswood Square and around Montrose Street, will be fully or partly closed.
The city has also hosted Peter Mullan's film Neds, Perfect Sense with Ewan McGregor and Eva Green, and The Decoy Bride starring David Tennant.
Pitt filmed scenes for zombie movie World War Z last month around George Square.
 
IN DETAIL