Iconic 60-year-old Volkswagen Beetle set for auction
The vehicle is expected to raise around £9000 later this month.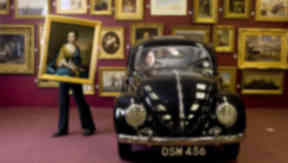 A 60-year-old classic car is set to go up for auction in Glasgow later this month.
The Volkswagen Beetle, which is a Deluxe 1200 model, has been in the hands of Glaswegian Willie Black since 1966. The vehicle dates from 1953, the year Beetles were first introduced to the UK market.
Mr Black commented: "The vehicle is in near mint condition and it always gets envious glances when I take it to car shows around the country.
"I have had great fun with it over the years but I'm 72 now and I think it's time for someone else to appreciate and enjoy it for a while."  
The VW Beetle is expected to be sold for around £9000 at the McTear's Autumn Furniture, Asian Works of Art, Pictures, Clocks and Collectables sale, which will take place on Thursday, September 29 at 6.00pm.
Brian Clements, managing director at McTear's Auctioneers, added: "There is no doubt McTear's is more closely associated with fine paintings and collectable whisky than classic cars, however the VW Beetle is one of the great design icons of the 20th Century and I think it is fair to say this pristine example is a work of art in its own right."