Shopping centre guard calls police over father taking 'illegal' photographs of his daughter
A man claims he was questioned under the Terrorism Act after snapping his four-year-old eating ice cream at Braehead shopping centre.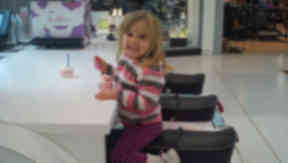 A father who was allegedly questioned under the Terrorism Act after taking photographs of his four-year-old daughter enjoying an ice cream at a shopping centre has demanded an apology from Strathclyde Police.
Chris White claims a security guard told him that the pictures, taken at the Braehead centre near Glasgow on Friday afternoon, were "illegal".
The guard allegedly then asked Mr White to delete the photographs, taken on his mobile phone.
Mr White, a mental health trainer, said: "I told him I had taken two photographs of my daughter Hazel, and that since I had already posted them on Facebook there was little point in deleting the pictures.
"The guard then told me to 'remain right there' while he called police, which I chose to do."
According to Mr White, Hazel was in tears while they waited five minutes for officers to arrive at the scene.
He said he was then quizzed by two uniformed policemen who told him there had been a complaint about him taking photographs and that there were "clear signs" in the centre stating that the use of cameras was forbidden.
Mr White told the officers that he had not seen the signs, and that he had ensured that no-one else appeared in the photographs to avoid any privacy issues.
Throughout the interview, Mr White said, he was made to feel "intimidated" by the officers. He said: "It was like, 'you stop talking, I'm a police officer'."
The 45-year-old father added that when he tried to calm Hazel down one of the policemen interrupted to tell him: "you aren't listening to me."
He claims that one of the officers then said that under the Terrorism Act he could confiscate Mr White's phone and delete the photographs.
However, according to Mr White, the policeman said that "on this occasion" he would allow the father to keep the photographs on the provision that he provided his full details.
Complaints
He has since made complaints to both Braehead shopping centre and Strathclyde Police.
"You expect police officers to conduct themselves in a professional manner and deal with you with dignity and respect," he said.
In a reply from Strathclyde Police, Mr White said a spokesperson apologised for "distress" caused to Hazel and said that a formal investigation of the incident and officer involved was under way.
Superintendent George Nedley of Renfrewshire and Inverclyde Division said: "I can confirm that police were asked to speak to this gentleman by security staff at Braehead on Friday October 7.
"My officers attended and gave advice and no further action was taken by the police officers.
"I can confirm we have received a complaint regarding this incident and one of my senior officers has spoken to Mr White regarding this. As a result a full review of the circumstances surrounding the incident and the allegations made is under way."
On Monday, after receiving a barrage of negative comments on social networking sites, Braehead issued a statement on Twitter saying: "We note all comments, but acted in good faith based on info we had at the time. Both ourselves and police are investigating Mr White's claims."
It later claimed that critical customers' posts on the shopping centre's official Facebook page were not deleted by Braehead staff. 
A post on its Facebook wall read: "Our IT department are investigating and we have reported it to Facebook. We have reinstated as many posts as possible."
On Sunday, a spokesman for Braehead said: "Staff at an ice cream stall in Braehead became suspicious and alerted a member of the centre's security staff after they saw a male shopper taking photographs at their counter.
"The member of security staff approached the man and politely asked if he had been taking photographs. Because of the nature of the incident, police became involved and also spoke to the man.
"Our priority is always to maintain a safe and enjoyable environment for all of our shoppers and retailers. The member of our security staff acted in good faith.
"We have a 'no photography' policy in the centre to protect the privacy of staff and shoppers and to have a legitimate opportunity to challenge suspicious behaviour if required. However, it is not our intention to - and we do not - stop innocent family members taking pictures."
Section 43 of the Terrorism Act 2000 states that police officers have the power to view digital images contained in mobile telephones or cameras, but only if there is reasonable suspicion of terrorist activity.
However, officers do not have the power to delete digital images or destroy film at any point during a search unless a court order has been granted.