Police say Braehead photo row father complaint 'has no basis'
Chris White caused social media storm when he claimed he was questioned for taking pictures of his daughter eating ice cream.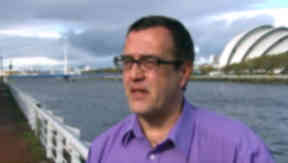 Police have taken the unusual step of issuing a public denial of accusations made by a father who claimed he had been questioned for taking pictures of his young daughter at a shopping mall.
Chris White said police interviewed him at Braehead Shopping Centre near Glasgow because they thought he may have posed a danger to children. He claims he was questioned under terrorism laws.
The incident last Friday sparked a storm on social media websites after Mr White claimed a security guard had asked him to delete the pictures of his daughter Hazel because they were "illegal".
The shopping centre later apologised to Mr White, and Strathclyde Police apologised for the "distress" caused to Mr White's daughter.
On Thursday afternoon Strathclyde Police issued a statement about the incident saying its officers had acted "promptly and professionally".
A member of staff at the centre's ice cream stall is said to have told officers that Mr White took photographs of her with his trouser zip open.
STV News understands police reviewed CCTV footage from the time and were in close liaison with the Procurator Fiscal service, but police have now acknowledged that no crime was committed and it is understood Mr White will not face charges.
Mr White, who has denied any wrongdoing, told the BBC's Reporting Scotland programme: "I'm quite relieved at that; they haven't said that to myself.
"There has been no kind of concern about the effect on myself, my wife and my daughter.
The story started about my four-year-old daughter being upset at Braehead shopping centre last Friday."
Comment and criticism
Rob Shorthouse, director of communications for Strathclyde Police, said: "It is absolutely right and proper that when a complaint about the police is made that it is fully investigated. The public need to know that their complaints are taken seriously and are acted upon promptly and professionally. This is exactly what has happened in this incident.
"Mr White complained to the police about the incident in Braehead. In his statement he set out a set of circumstances that has caused widespread debate, comment and criticism for those who he alleged were involved. Mr White chose to make his complaint public, to give interviews to the media and to seek debate on social networks.
"We are well aware that, as a result of this social media conversation, demonstrations are being planned this weekend at Braehead. We have also seen global media coverage of the incident – all of which has painted the shopping centre, this police force and, arguably, our country in a very negative light."
He added: "It is because Mr White chose to seek publicity for his account of events and because of the planned demonstration that we feel compelled to take the unusual step of making our findings public.
"In reaching our conclusions, officers took statements from a number of independent witnesses and viewed the substantial amount of CCTV that was available in the centre.
"On reviewing all of this objective evidence, I have to tell you that we can find no basis to support the complaint which Mr White has elected to make.
"The members of the public who asked for the security staff to become involved have told us that they did so for reasons which had absolutely nothing to do with him taking photographs of his daughter. They had a very specific concern, which I am not in a position to discuss publicly, that they felt the need to report. It was because of this very specific concern that security staff became involved. They were right to raise their concern and we are glad that they did so.
"The security staff were the ones who asked for police involvement. Again, this was not because Mr White said he had been photographing his daughter, but was due to the concerns that they themselves had regarding this particular incident.
"When our officers became involved they did not confiscate any items, nor was Mr White questioned under counter terrorist legislation. It is wrong to suggest that the Police spoke to Mr White because he claimed he had been photographing his daughter, or that officers made any reference to counter terror legislation. Mr White knows, or ought to know, why our officers spoke with him."
Social media
Mr Shorthouse said the force felt forced to make a statement due to the range of public opinion over the incident.
He added: "Since Mr White chose to publish his version of events on Facebook, we have seen substantial traditional media and social media activity around the story. People have been very quick to offer their opinions on this issue and were very keen to accept Mr White's story as the only evidence that was available. Clearly this was not the case.
"Social media allowed this story to spread quickly around the world. I hope that the same media allows this part of the tale to move just as quickly.
"For the avoidance of any doubt, we have fully investigated this incident and we can say that none of the independent and objective evidence presented to us by either the members of the public or the CCTV backs up the claims made by Mr White."
In a statement on the Boycott Braehead community page on Facebook, Mr White rejected any suggestion that he was planning a protest at the shopping centre. 
He wrote: "The issues in relation to Braehead and Capital Shopping Centre PLC have been resolved and they previously stated they would be changing their policy. Until today I have stated that a meeting has been arranged between myself and and CSC to discuss there new policy.
"I do not support a boycott of Braehead, but an issue in relation to Strathclyde Police. Not wanting to 'hide' from a public debate I intend to make a full press statement later today in relation to the issues relating to Strathclyde Police. Once in a position to do that will look at whether it is possible to change the name of this fb page, or move to "let common sense flourish" or another site.
"I will remain in the public eye until I have cleared my reputation and name, but I do request that people do respect that also involved in this story there is a four-year-old girl and her mother. My name can be dragged through the 'mud', mud washes off, but please respect the thoughts and feelings off my family."
In an earlier interview, Mr White said Hazel had been reduced to tears during his confrontation with the security guard.
'Clear signs'
The 45-year-old said he was then questioned by two uniformed policemen who told him there had been a complaint about him taking photographs and that there were "clear signs" in the centre stating that the use of cameras was forbidden.
Mr White said he told the officers that he had not seen the signs, and that he had ensured that no-one else appeared in the photographs to avoid any privacy issues.
Throughout the interview, Mr White said, he was made to feel "intimidated" by the officers. He said: "It was like, 'you stop talking, I'm a police officer'."
He claimed one of the officers then said that under the Terrorism Act he could confiscate Mr White's phone and delete the photographs.
However, according to Mr White, the policeman said that "on this occasion" he would allow the father to keep the photographs on the provision that he provided his full details.
More than 24,000 people had signed up to a Facebook group titled 'Boycott Braehead' after it was set up on Sunday.
On Monday, the shopping centre said it was changing its photography policy with immediate effect to allow people to take pictures of family and friends in the mall.
A spokesman said: "We have listened to the very public debate surrounding our photography policy and as a result, with immediate effect, are changing the policy to allow family and friends to take photos in the mall."
Following the police statement, a spokesman said: "We cannot comment on the outcome of the police investigation. However, following our own investigations, Braehead stands by the actions of our member of security staff and by the actions we have subsequently taken."
On the apology earlier this week, the spokesperson added: "With the information we had at the time, our apology to Mr White on Monday was for any distress this incident may have caused him and his family.
"We have not apologised for any of our actions, and we stand by our member of security staff, and the fact that he acted in good faith."
IN DETAIL
LINKS