Glasgow Boys exhibition opens at Kelvingrove
Sixty paintings by the influential Victorian artists are to go on permanent display at the museum.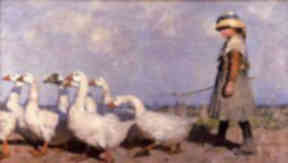 Rarely seen work from one of Scotland's most influential group of artists is to go on display at a Glasgow museum.
A new permanent exhibition dedicated to the Glasgow Boys at Kelvingrove Art Gallery and Museum will open on Friday.
The display of some 60 paintings from the museum's collection includes works by William Kennedy, Edward Atkinson Hornel and James McLachlan Nairn which haven't previously been on show to the public.
The decision to dedicate a large gallery to the artists was taken following the success of the museum's Glasgow Boys exhibition last year.
Some 123,000 people saw the show of around 140 pieces of the group's work in Glasgow, and a further 120,000 visited when it toured to the Royal Academy in London.
The new, permanent display also features many of the Glasgow Boys favourites including The Druids Bringing in the Mistletoe by George Henry and Old Willie - the Village Worthy by James Guthrie.
Lord Macfarlane of Bearsden was Chairman of the Glasgow Boys and Chairman of the Kelvingrove Redevelopment Appeal.
He said: "Last year, the Glasgow Boys found a new and appreciative audience thanks to the exhibition held at Kelvingrove and the Royal Academy.
"Many people who saw that exhibition told us that they wanted more and it is entirely fitting that this new, permanent gallery at Kelvingrove will show more of their works and help more people come to understand and appreciate the talent of the Glasgow Boys.
"I'm very pleased indeed because for a long time the Glasgow Boys have been very under-represented and it has now become obvious that there is a huge interest in them."
Jean Walsh, senior curator at the gallery said: "They brought a touch of modern, European painting to Scotland which is why they are a very important group of artists"
The Glasgow Boys fell out of fashion in the early part of the twentieth century, but have seen a resurgence in the past few years.
Ms Walsh added: "They are really beautiful pictures to look at a very well painted, and not complicated and people can relate to them - they perhaps recognise some of the places depicted.
"There's a bit of a nostalgia factor for the rural way of life in Scotland, there's a great variety of things people can relate to and there's a great variety of them. And it's nice to have things to look at when times are bad, and to come into a gallery and see something which gives you pleasure."