Occupy Glasgow protesters ordered to leave George Square after woman raped in tent
A 28-year-old was attacked in a tent while she was attending the anti-capitalist Occupy Glasgow campaign.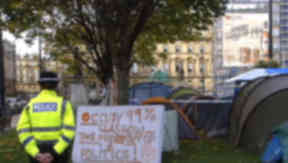 A council has ordered a group of protesters to leave a camp site in Glasgow the day after it was revealed a woman was raped in one of their tents.
Glasgow City Council said on Thursday it has now issued a "notice of explusion" under the council's park management rules. This was followed by the council raising eviction proceedings.
A 28-year-old was attacked in a tent in George Square in the early hours of Wednesday morning as she took part in the anti-capitalist Occupy Glasgow campaign.
Police said they are looking for two men they believe are known to the victim.
The Glasgow protest is part of the global occupy protests which have been taking place in cities around the world following the Occupy Wall Street protest in New York.
The protesters are campaigning against the perceived injustices of the global economic system.
A spokeswoman at Glasgow City Centre said: "After more than 9 days of unsuccessful negotiations with Occupy Glasgow, the Council today raised court proceedings to evict the protestors from George Square.
"A hearing has been fixed for Tuesday November 1 to listen to both sides of the case and hopefully grant our motion to evict them.
"While we hope that an amicable solution can be found we feel that due to forthcoming major events in George Square and the onsite preparations needed to make them happen we have no other option than to take this course of action.
"We have explained to the protesters on many occasions that their presence in the square is illegal and that they should leave. This letter merely formalises that."
Strathclyde Police are now hunting for two men they said were staying in the makeshift campsite outside the City Chambers.
Detective Inspector Dougie McKinlay said: "We are looking for witnesses to an incident that took place some time between 9pm and midnight on Tuesday, where a serious sexual assault occurred on a 28-year-old female within the Occupy Glasgow protest camp."
The men are described as 20 to 30, both 6ft and of slim build. One had short, spiky blond hair and one had short dark hair, police said.
Detective Inspector McKinlay added: "The victim may have known her attackers, but possibly not by name. We know there were other people in the area at the time and we are appealing for them to come forward."
On Wednesday evening Occupy Scotland held a meeting to discuss the incident. A spokesperson later said: "A young woman supporter was raped while staying at the occupation camp in George Square. There was lengthy discussion about this abhorrent and intolerable crime and its repercussions.
"We unequivocally condemn the rape that took place against one of our supporters. This is totally unacceptable. We believe it beyond question that our society should neither tolerate, not allow violence against women, in any place, at any time."
"The sad fact stands that the human right to safety and security is a goal not currently attained in our society which frequently falls far too short of this aim."
"We take camper's security extremely seriously and have had a Safer Spaces Policy for the site since day one, and are continually addressing how best to carry it out."
IN DETAIL