Real-life soap opera gets High Road village in a lather
The tenants of Luss visitor centre are in dispute with Loch Lomond National Park Authority after opening a cafe.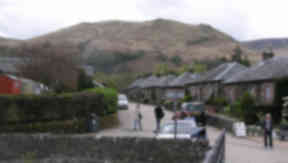 A row has broken out on the shores of Loch Lomond after one of its best-known visitor centres was turned into a cafe.
Loch Lomond National Park Authority claims that the new tenants of Luss visitor centre did not have permission to open the cafe and wants to evict them.
But Keith and Denice Purdie, who also run soap making business Purdie's of Argyll, say the national park is mistaken and have vowed to fight efforts to remove them.
The situation has also angered local businesses in the village, which was once the home of long-running soap opera High Road.
They say the Purdies' business is threatening their trade, while the community is up in arms about the loss of their visitor centre.
Patrick Farrell, of Luss Community Council, said: "The National Park had promised that whoever took over the tourist information centre, the actual tourist information centre would be part of that.
"The whole community in Luss feels that there's something big missing there."
Mr Purdie told STV News: "We have done everything absolutely by the book. There are perhaps some minor technical issues that we could negotiate with the planning department, but in the meantime that dialogue seems to have been continuing whilst the National Park as a landlord has taken a completely different view and a very aggressive view."
In a statement, the National Park Authority said it had tried unsucessfully to resolve the issues with the Purdies.
"[We] first brought issues to the attention of the tenant on 4 May 2011. The NPA followed this up on numerous occasions seeking to resolve matters," the statement said.
"Due to a lack of any formal response from the tenant... the NPA issued formal notices stating that, due to certain breaches of the lease, the tenants had two months to rectify those breaches and explaining that, if they did not, then the lease may be terminated."