Occupy Glasgow camp costs city council £45 a day
Anti-capitalist demonstrators moved to Kelvingrove Park after the city council ejected them from George Square.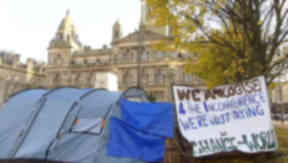 The Occupy Glasgow camp in the city's Kelvingrove Park will cost the city council at least £4000, STV News can reveal****.
Anti-capitalist protesters decamped from George Square earlier in November following a Glasgow City Council bid to oust them from the city centre to clear the area ahead of Remembrance Day.
The council then offered the group an alternative venue on the former putting green of the west end park, where they can stay for the next three months.
In response to a request from councillors, Robert Booth, executive director of land and services, revealed that the set-up cost of the camp, including providing fencing, toilets, lighting and a water supply, ran to £1800.
Weekly running costs are expected to amount to £160, bringing the total over three months to £4040 - an average of nearly £45 a day.
The protesters have been issued with a list of conditions for the occupancy. These include requirements that other park users are not harassed by activists handing out flyers, litter is picked up and noise levels are kept to a minimum.
The group has been given full responsibility for stewarding the occupation, and the license grants them use of the space until at least February 2, 2012.
Meanwhile, a police investigation into the rape of a 28-year-old woman in a tent during the George Square protest is continuing.
IN DETAIL